What Are the Rules of the Mini Baccarat Game?
Mini Baccarat is a table game powered by Play'n GO. You play the game with six decks of cards, and the rules are similar to a standard baccarat game. You can place a bet on a win for the dealer, yourself, or a tie.
The dealer and the player each receive two cards, plus one additional card. Playing cards two to nine are worth their face value. Ace counts as one, and 10 to K are worth zero. The player with a value closest to nine is the winner.
If you reach a tie, you'll get back your bets placed on yourself or the dealer. If you made a bet on a tie, you'd receive payment of 8:1. Betting on the dealer will pay even money, with a five percent deduction, going to the house. A bet on the player pays evenly.
In the first round of a new game, you can select your chip value with the values of 1, 5, 10, 25, and 100. The betting range for wagering on the player and the banker is from $1 to $100.
You can only stake a maximum of $10 on a tie. However, you can bet on multiple positions, which means that the maximum amount you can wager in one round is $210.
Once you have placed your bets, you click on the 'deal' button. You receive your winnings immediately after each round. You can use the 're-bet' button if you want to keep your betting amounts the same throughout the game.
---
Gameplay – Graphics, Design, and Sounds
Mini Baccarat is a fast-paced game. There's even a lightning bolt icon that activates a fast play option. You can toggle between having the background sound and music on or off, and you can mute the game by clicking on the speaker icon.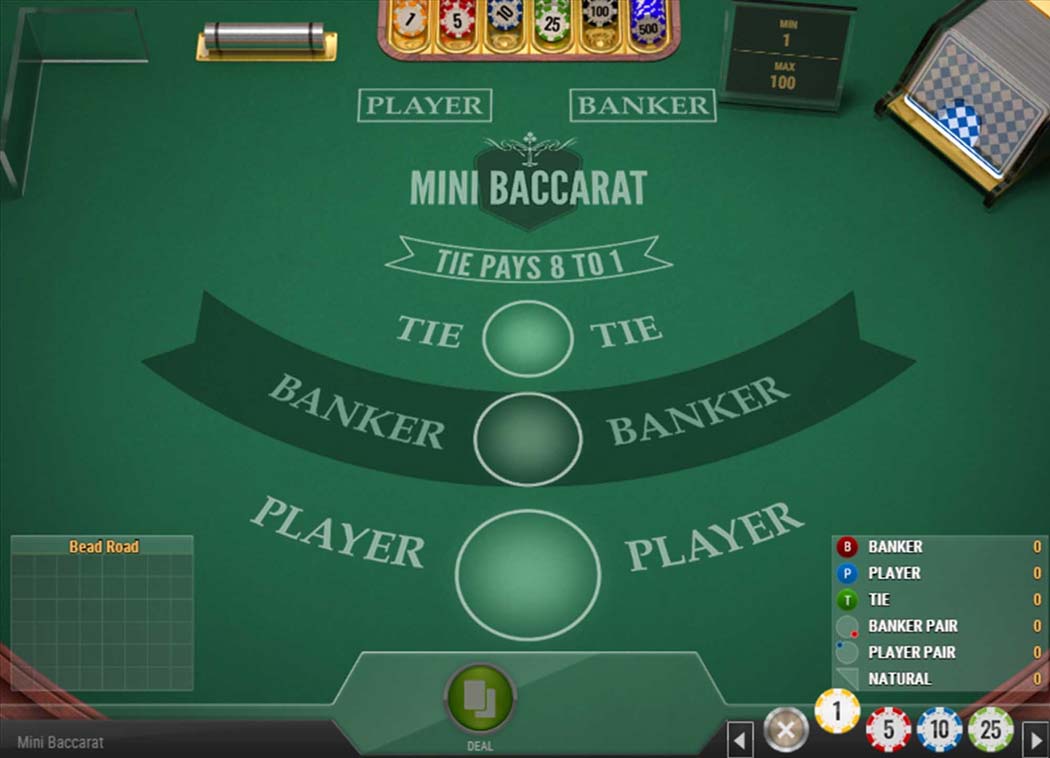 The graphics on the game are good enough to offer an enjoyable experience. The gameplay takes place on a three-dimensional game table with three betting spaces. You'll find the different coins you can place on the betting spaces at the bottom of the screen. In addition, the game comes with instrumental background music and a friendly voice that guides you through the game.
---
What Is the RTP of the Game?
A Mini-Baccarat win has a standard payout ratio of 1:1 for placing bets on the player. A bet on the dealer payout 1:1 minus a five percent house commission. Betting on a tie pays out 8:1. Mini Baccarat RTP is 98.76% for a player bet, 98.94% for a dealer bet, and 85.56% for betting on a tie. Experts say that table-games have low volatility.
---
Special Features
Unfortunately, there's no side betting option available on the Mini Baccarat game. However, we've found the 'bead road history view' feature to be quite helpful. It shows you the result of previous rounds. It also indicates if a player or a banker had any pairs or naturals.
---
Mini Baccarat on Mobile
You can access most online casino games from a mobile device. That enables you to play the Mini Baccarat game anywhere, at any time. If you want to test the game first, you can look for Mini Baccarat free play sites on your mobile.
---
Useful Strategy for the Mini Baccarat Game
The best Mini Baccarat strategy that we suggest is to learn how to play the game before attempting to bet with real money. There are loads of Mini-Baccarat demo versions readily available via our site to give you some playing experience.
Once you have the game mechanics down, look for online casinos that offer Mini Baccarat no deposit options.
---
Our Opinion About the Mini Baccarat Game
Unlike a traditional baccarat game played with eight decks of cards, Mini Baccarat is played with only six decks. We like the game's speed, and the fast play option is great for those in a hurry. However, the game isn't a viable option for high rollers because it comes with restricted betting.
If you are looking for a quick and straightforward table game, we recommend trying out Mini Baccarat. It's fun and can keep your attention for hours.
---
FAQ
Who is the provider of the Mini Baccarat table game?
Mini Baccarat is designed by Play'n GO, a company specializing in creating online casino games.
What is the minimum stake of the Mini Baccarat game?
You can start with a bet of $1.
What is the maximum win from the Mini Baccarat table game?
Betting on a tie pays out eight times your initial bet.
Which are the leading online casinos for a real-money play of the Mini Baccarat game?
You'll find the game on most online casinos, and you can even try a Mini Baccarat demo on one of the sites that we recommend.
Are Baccarat Outcomes Random?
Yes, although the cards are virtual, they are generated at random. Make sure you're registered with a licensed online casino to ensure fairness.
Is Mini Baccarat a slot game?
No. It's not a slot machine. It's a table game. So it has no Mini Baccarat jackpot, free spins, or bonus spins.