Ad disclosure
Commitment, professionalism and trustworthiness are the core values of NostraBet (NB). We manage to deliver cutting-edge betting products to our readers thanks to our affiliate business model. It is true that NB uses affiliate links to drive traffic to bookmakers. What you must know is that these are free for you to use. Their main purpose is to earn us commissions that will ultimately be invested in the betterment of our product. Visit our
Ad Disclosure
page to learn all the details.
Introduction
One of the latest trends noted amongst leading online sportsbooks is the increasing popularity of Virtual Sports. This has gained a fair amount of traction with punters as a viable alternative to conventional forms of real-life sports wagering, even though, betting on real sports events has, since the dawn of time, been in the number one position as the most preferred form of entertainment amongst punters from across the world.
However, in today's society, advances in technology make it entirely possible to meet the ever-increasing demand for instant entertainment gratification. Despite thousands of real-life sporting events occurring around the globe each day, popular sports events can, due to the human factor, simply not meet all the demands of all people looking for sports betting opportunities at all times.
To find the virtual sports section at Ladbrokes navigate to the main website homepage, select the "SPORTS" tab from the main menu, then select the "A-Z SPORTS" hamburger icon located at the top left of the sports betting page to reveal a drop-down menu. Finally, scroll to the very bottom and select "Virtual Sports" which reveals the entire range of virtual sports available at Ladbrokes.
---
Virtual Football
Ladbrokes pays its Virtual Football product all the love and attention it deserves as the number one most viewed sport in the world. As such the virtual sportsbook allows punters to enjoy their football betting 24/7/365, with matches played out according to a strict pre-set event schedule. Live commentary in English provides an extra touch of hype to further boost the levels of realism and immersion in all virtual football matches.
Competitions
Teams simulate those found in actual club tournaments and international championships from around the world. Here Virtual Football follows no specific league format. Instead, punters will see randomised matchups where teams highly unlikely to ever play each other in real life will face off in this exciting virtual environment. Despite featuring virtual teams closely mirroring real teams, their respective performances have nothing in common since RNG determines all event outcomes. Punters will see teams such as Ukraine, Switzerland, Spain, Slovakia, Germany, and England matched, while club matchups like the Barcelona Braves will face Manchester United, Mersey Blues etc.
Match duration
Typically, a new match starts every 3 minutes, with individual match time streams compressed to 1 minute from kick-off to final whistle while 5-second break separates the two 30 second halves. This is followed by a 30 second showcasing of game highlights and results that allows punters to check on the success of their bets. After that the display refreshes to show the selection for the upcoming match for another 30 seconds for punters to place further bets, leaving a total break-time of 1 minute between games.
Betting options and markets
Ladbrokes Virtual Football offers punters just about all the betting markets available in real-life football, including Correct Score, Win/Draw/Win, Over/Under 2.5/ Double Chance, and Total Number of Goals. All these markets offer outstanding odds, in most cases, several points above any real-life offers.
---
Virtual Horse Racing
The available variants of Virtual Horse Racing provided here far exceeds those offered by most online sportsbooks. Ladbrokes, in contrast, offers two unique forms of horse racing, flat racing and jump racing or hurdling, with particular attention paid to the Grand National which also receives its own dedicated section.
Each virtual flat race features anywhere from 8 to 16 runners a lap around racecourses such as Derby Downs and Chase Park. Similarly, hurdle races also feature 8 – 16 riders doing a lap around the Picket Fences racecourse, while Grand National races take place at Laddies Leaps Lane with up to 40 horses in the running.
Betting options and markets
Both Virtual Horse Racing formats offer the same betting markets found in actual events, namely Tricast, Forecast, and Win or Each Way.
Race duration
Again, both Virtual Flat and Jump races run at 3-minute intervals, with the time between starts broken down to a 1-minute pre-race line-up featuring a brief history of each horse's performance which provides punters with the opportunity to make their selections and place bets accordingly. Followed by a 1-minute running of the race, after the finish race results will feature for 30-seconds, followed by a 30-second break before the start of the next race.
---
Virtual Greyhounds
Greyhound racing opens up further options to keep race fans entertained at Ladbrokes, race fixtures see up to 6 dogs run one lap of an impressively detailed Longlead Stadium. Numerous cameras capture the action from all angles as each race runs its course around the 480-metre-long dirt track.
Betting options and markets
Again, as in actual Greyhound racing, featured betting markets include Tricast, Forecast, and Win or Each Way.
Race duration
In keeping with the abbreviated nature of virtual sports betting events, the Ladbrokes Greyhound races see six dogs running a single 40 – 45 second lap of the course followed by a 30-second review of the results. Thereafter, the screen refreshes to display the runners of the next race for the next minute. A 1-minute break separates races, which leaves punters with a new race scheduled to start every 3 minutes.
---
Virtual Motor Racing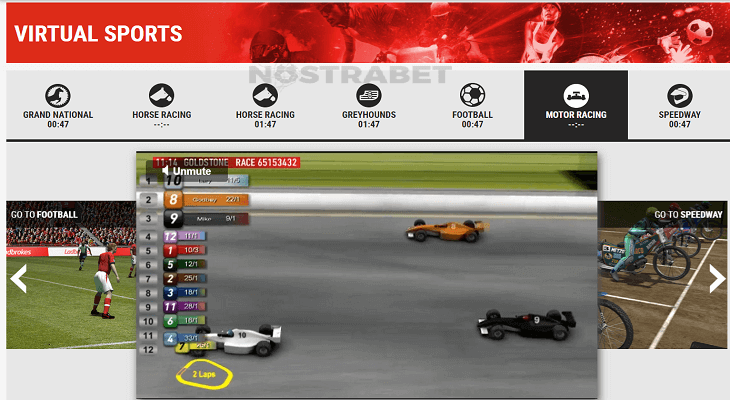 Ladbrokes, still keeping to the racing action but switching from runners to tortured mechanicals, offer punters an opportunity to visit the virtual Goldstone raceway and experience the thrill provided by Virtual Motor Racing. Closely modelled after the IndyCar series members have the option to place bets on any of the up to 12 virtual racing drivers in high-performance single seater cars all vying for position while screaming in a fast-paced sprint race lasting two laps of the 3.2 Km track.
Betting options and markets
Offering the near standard round of betting markets featured in most racing formats punters have access to Win or Each Way, Tricast, and Forecast, leaving participants with an exceedingly simple bet selections range, which combined with odds hovering well above that offered on any real sports event makes an extremely enticing offer.
Race duration
Racers require 30-seconds to complete each lap of a Virtual Motor Race leaving the overall time to complete a race at 1-minute at the end of which for the next 30 seconds the screen will recap race highlights and results before refreshing to give an overview of contestants in the upcoming race over the next minute and a half. 1-minute 30-seconds separate individual races, with all race, starts separated by 3 minutes.
---
Virtual Speedway
From Virtual Horse Racing to dogs, cars, and now Speedway, the racing action simply never stops at Ladbrokes with betting action catering to the tastes of near all members. Despite the relative niche status actual Speedway racing managed to carve for itself as a sport over the past many years, it always ranked high on the popularity stakes of punters across the world once they've enjoyed their initial introduction. The main reason for its success amongst punters is most probably due to the hugely volatile nature of this racing format that sees four motorcycle racers careening sideways around the Revington Circuit's dirt oval on highly modified bikes, without brakes or any form of sudden, effective retardation other than hitting the wall, at mentally disturbing speeds.
Betting options and markets
Despite offering inordinately high odds Ladbrokes Virtual Speedway holds a bit of a surprise and a let-down for punters since the bookmaker limits betting to predicting the outright race winner only, but this is mostly due to the limited number of contestants in each race.
Race duration
Each race has racers completing two laps of the circuit with each lap completed in 30 seconds to create an overall race time of just over a minute. As with its other race products, the last 10 seconds showcases race highlights and results, followed by a preview of the competitors in the upcoming race with all race starts separated by 3 minutes.
---
Virtual Sports Provider
Ladbrokes employ the services and products from one preferred software provider, Inspired Entertainment. Inspired is a well-known UK-based software provider and world-leading specialist in Server Based Gaming (SBG) product technologies offering both off and online virtual sports betting solutions to over 100 entertainment venues across the globe.
It provides turn-key gaming solutions managed from a central server-based platform which allows the company to distribute and provide remotely customised software configurations to best meet the requirements of its clientele in the shortest possible period.
---
Live betting on Virtuals
Many popular forms of virtual sports, such as the selection offered by Ladbrokes, by its very nature does not lend itself to allow Live In-Play betting. The absence of a live betting market is mainly due to the highly abbreviated and compressed nature of racing type virtuals which leaves little time for the punter to place a bet from the time they would first notice such opportunities to the time the highlight has become part of a game in history. Which is also the principal reason Ladbrokes only offers pre-match style betting options and markets.
---
Virtual Sports Mobile Betting
Virtual sports and mobile smart devices represent a perfectly complementing match-up of technologies and opportunities to provide the maximum level of convenience to all members of the Ladbrokes virtual sports betting fraternity.
Mobile smart devices essentially provide punters with the capacity to engage in their favourite pastime from whenever and wherever they wish. Similarly, virtual sports were created for this very same reason to enable punters to view results, make new selections, place new or additional pre-match or in-play bets at any time of the day they wished.
It was also for this very reason Ladbrokes created its dedicated mobile apps and mobile version, to further complement and enhance the capabilities provided by both mobile smart devices and virtual sports. As such, the bookmaker's mobile products aim to deliver the ultimate level of convenience to their members, allowing them to continue betting with the greatest of ease afforded by the flexibility inherent when combining all three technologies.
---
Bonuses for virtual betting
As you have undoubtedly noticed, Ladbrokes has a superb Virtual Section that you will enjoy. One minor setback is the fact that the company no longer offers a specific bonus, dedicated to the fans of the virtual sports betting. However, you can still take advantage of the vast range of promotions available on the website.
---
Deposit and Withdrawal options
As one of the UK's most renowned and preferred sports betting brands, Ladbrokes continuously focuses on delivering the best possible user-sports betting experience. This company vision ensures the brand caters to the needs of all its members, including the delivery of an excellent range of banking services for funding member sportsbook accounts. In our table below we provide greater insight into each of the most popular banking solutions.
Deposit Methods
Withdrawal Methods
| Payment Method | Deposit Minimum | Deposit Maximum | Time for Deposit |
| --- | --- | --- | --- |
| Visa | £5 | £99 999 | Instant |
| MasterCard | £5 | £99 999 | Instant |
| PayPal | £10 | £10,000 | Instant |
| Neteller | £10 | Not specified | Instant |
| Skrill | £10 | Not specified | Instant |
| Paysafe Card | £5 | Not specified | Instant |
| ApplePay | £5 | £99 999 | Instant |
| Payment Method | Withdrawal Minimum | Withdrawal Maximum | Time for Withdrawal |
| --- | --- | --- | --- |
| Visa | £5 | £30,000 | 3-5 Days |
| MasterCard | £5 | £30,000 | 3-5 Days |
| PayPal | £10 | £10,000 | Up to 2 Days |
| Neteller | £10 | Not specified | Up to 2 Days |
| Skrill | £10 | Not specified | Up to 24 Hours |
| Paysafe Card | N/A | N/A | N/A |
| ApplePay | £0.01 | £30 000 | 1-3 Days |
---
FAQ
Is it safe to continue betting on virtual sports using my mobile phone while away from my desktop PC?
Yes, betting via mobile offers safety levels similar to those employed by the world's major finance houses when performing any form of online banking transaction. Aside from using HTTPS to ensure line security between client and sportsbook, SSL encryption keeps all transmitted data completely safe, with the encryption making any intercepted data undecipherable and thus useless to unauthorised third parties.
When viewing a streaming video of virtual sports events, why does the audio not always match with the onscreen activities?
Depending on your geographic location, internet line speed and quality, it is quite understandable and natural during live video streaming services for such instances to occur from time to time. They will invariably correct themselves.
Does a Virtual Football team's performance mimic or have a close link to that of its real-life counterpart?
No, the performance of Virtual Sports athletes and teams have no bearing or base on those of their real-life namesakes. Specialised RNG software determines all outcomes and results of Virtual Sports events, similar to the manner whereby an online slot operates.
Can I rewind the action of a virtual sports even if I wish to see it again?
No, you cannot rewind event timelines you can only pause the video feed.
Does the Cash out option appear fairly regularly during virtual sports matches?
No, the Cash out option only appears during live in-play events and Ladbrokes offers no In-Play betting markets on virtuals. Moreover, it is a system generated offer, which makes it impossible to predict when and how often it will appear.
How do I cancel a Virtual Football bet if I change my mind once I've placed it?
The Ladbrokes terms and conditions clearly state once placed, it cannot be cancelled under any circumstances.
If I lose signal while viewing a virtual-sports event I've wagered on will I automatically lose the bet?
No, your viewing has no effect on the outcome of a sports event RNG determines the results and outcomes of all virtual sports events.
What time does the first Virtual Football match of the day kick-off?
Ladbrokes offers a new Virtual Football match every 3 minutes of the day, 24 hours a day, this means each day a new Virtual Football match starts at no later than 3 minutes past midnight.
---
About Ladbrokes Virtuals
Ladbrokes online Virtual Sports is a highly ingenious technological solution explicitly created to fulfil the need for instant sports betting entertainment by creating an innumerable number of sports betting opportunities each day to make betting on virtual sports at any time of the day, week, month, year, a reality.
Sourced from one of the industry's foremost providers of virtual sports betting products, namely Inspired Entertainment, ensures RNG algorithms come protected by built-in security measures aimed at preventing any possible human interference. Moreover, regular testing and certification procedures implemented by industry approved independent auditing firms provide further assurance of the ongoing integrity regarding gaming fairness in all virtual sports and many other RNG based games, such as Scratch Cards and Slots.
The virtual sports selection at Ladbrokes encompasses all locally popular flavours such as Greyhounds, Football, Motor Racing, Speedway, including three variants of Horse Racing, namely Grand National, as well as a mix of Flat Track, and Jump Racing. Besides, the bookmaker offers punters the option to view and follow any event's action live, streamed in real-time HD video via the embedded media player.
---
Conclusion and Rating
Once anyone spends some time not only analysing and assessing the Ladbrokes Virtual Sports products but just using and enjoying them it is easy to understand why this online bookmaker has become so popular amongst its loyal follower and why it manages to attract so many more each day. It easy to use, simple to understand, offers good quality video feeds, and a great range of betting markets which all combined makes for an excellent Virtual Sportsbetting product which convinced us to award the bookmaker's virtual offering an 8/10.
Last updated: 19 Sep, 2023 at 02:02