Ad disclosure
Commitment, professionalism and trustworthiness are the core values of NostraBet (NB). We manage to deliver cutting-edge betting products to our readers thanks to our affiliate business model. It is true that NB uses affiliate links to drive traffic to bookmakers. What you must know is that these are free for you to use. Their main purpose is to earn us commissions that will ultimately be invested in the betterment of our product. Visit our
Ad Disclosure
page to learn all the details.
Ladbrokes Tennis Betting
To start, it's essential first to know where Ladbrokes' Tennis section stands in the market and what pros and cons we feel impact the overall performance of its tennis betting section so that you have an objective idea of Ladbrokes. You can find these below:
Pros:
Easy navigation
Good selection of tennis bonuses
A wide array of tennis competitions including the ones by the International Tennis Federation
Exotic tennis markets in the live betting section
High odds and payout rate
Cons:
Tennis bonuses are a bit too small
Not all matches are available for live stream
---
Ladbrokes Tennis Navigation & Structure
Now that you know more about what Ladbrokes has and has not to offer, it is time to go into detail with the review. The first place that we will look closer at is the tennis homepage. In this case, Ladbrokes does not disappoint with respect to aesthetics and neatness. Although it isn't as interactive or as flashy as other more modern bookmakers, the platform is still user-friendly and is easy to navigate wherein promotions can be found below the header, upcoming events below that, and match betting/price boosts are located to the right.
---
Bet Slip in Tennis Ladbrokes
Aside from giving players an easy time navigating the section, Ladbrokes makes betting a painless experience.

When you enter the tennis section, the bet slip is located in the upper right-hand corner.

If you have yet to place any bets, your bet slip will be marked as "empty". Upon placing a bet, it will be shown in your bet slip, as will the odds and the potential payout is your bet is successful.

There is also another tab beside the Bet Slip tab that says My Bets wherein you can monitor your existing stakes, check open odds, accumulator bets, and any settled bets.
---
Results Section
To improve upon the experience Ladbrokes delivers, they have added a Results section. This allowed them to go the extra mile for their clients in terms of organized navigation. The tennis results show all winners, losers, and games that ended in a draw.
All are categorized by competition wherein the individual matches are subcategorized under each competition heading. The convenient side of the results section is that you can see results of older games, a feature perfect for those wishing to analyze a players' performances based on historical records.
---
Tennis News
Tennis news is essential to any punter as it provides information that can be used towards developing a more in-depth analysis which can later be used when making bets. As such, Ladbrokes provides a news page with updated results, relevant, informative stories relating to the tennis market, recent winners and tips. Besides, they also categorize their news based on individual events such as the French Open or Australian Open.
---
Mobile Tennis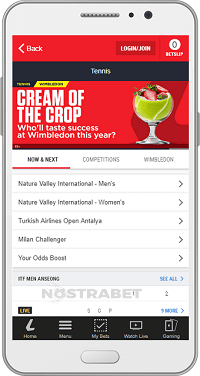 Those who have played at Ladbrokes know the value of its mobile platform. First of all, most customers would comment on the really lovely optimized design that the platform offers, in part due to its interactive interface. It includes the same features as seen with the desktop version and provides a degree of user comfortability.
If you wish to access the mobile platform, you have the choice to either download a dedicated iOS app, or is using an Android device, a dedicated Android app. Alternatively, Ladbrokes also provides a mobile website that is accessible via your mobile browser. Simply enter Ladbrokes mobile into your browser, and you are all set.
---
Payment Options
Betting on Ladbrokes is a simple process, both via its desktop site, mobile site and mobile apps. The cashier provides a variety of different payment methods that can be chosen when depositing, and subsequently, withdrawing. As a measure of convenience, we have included a table below identifying the available methods.
Deposit Methods
Withdrawal Methods
| Payment Method | Deposit Minimum | Deposit Maximum | Time for Deposit |
| --- | --- | --- | --- |
| Visa | £5 | £99 999 | Instant |
| MasterCard | £5 | £99 999 | Instant |
| PayPal | £10 | £10,000 | Instant |
| Neteller | £10 | Not specified | Instant |
| Skrill | £10 | Not specified | Instant |
| Paysafe Card | £5 | Not specified | Instant |
| ApplePay | £5 | £99 999 | Instant |
| Payment Method | Withdrawal Minimum | Withdrawal Maximum | Time for Withdrawal |
| --- | --- | --- | --- |
| Visa | £5 | £30,000 | 3-5 Days |
| MasterCard | £5 | £30,000 | 3-5 Days |
| PayPal | £10 | £10,000 | Up to 2 Days |
| Neteller | £10 | Not specified | Up to 2 Days |
| Skrill | £10 | Not specified | Up to 24 Hours |
| Paysafe Card | N/A | N/A | N/A |
| ApplePay | £0.01 | £30 000 | 1-3 Days |
---
FAQs
Curious about Ladbrokes' tennis betting market? Before you register and deposit, why not learn more by reading the FAQs below.
How are the betting odds at the Ladbrokes tennis section?
As most reviews online outline, the payout rate for tennis is around 91%, and that means that the odds are actually pretty good. However, other platforms have a higher payout average than Ladbrokes. Yet, when compared to other tennis bookmakers though, Ladbrokes is already in the slightly high side.
What are the bonuses that are offered by the Ladbrokes' tennis section?
One of the more popular ones would be the Ladbrokes tennis cashback offer. With this promotion, you have the chance of getting up to 10% cashback if you bet on Wimbledon games. Take note though, that the terms and conditions of the tennis bonus state that the maximum allowable cashback bonus us limited to £100.
Does Ladbrokes offer US Open events?
Yes, Ladbrokes offers US open events on its list of available tennis events.
Does Ladbrokes have a section that offers betting tips for the tennis market?
Yes, they do. They offer a plethora of really good betting tips in the Tennis news section. The nice side to this is accessing that information is free as long as you a registered account.
Is there a table tennis section that is part of the tennis section?
There doesn't seem to be a table tennis section for those in the UK. However, the Australian version of Ladbrokes does feature a table tennis section should you reside in Australia.
Can I get enhanced odds or enhanced prices in the Ladbrokes tennis section?
The in-play section has offers that allow you to get enhanced odds if you play live tennis. Simply visit the promotions section and follow the promotional rules to take advantage of the enhanced odds promotions.
Does the tennis section allow cash-outs when you bet on a tennis match?
Yes, the tennis section allows cashouts. In fact, all sports markets have a cash out feature that you can use if you want to exit a bet early and secure your profits. To avail the cash out feature, simply go to your bet slip and click on the My Bets tab. If an early cashout is offered for a particular event, it will be shown beside your active bets.
Will my tennis bet still stand even if my player is substituted by another?
If in the event your player retires in the middle of a match and a substitution is made, the bet will still stand. However, if your player retires before the match starts, then the bet will be considered void, and your stake will be returned to you.
---
Company Information
Ladbrokes is definitely one of the larger online bookmakers and is one of the oldest ones. While until the year 2000 as an online platform, its parent company has a history that can be dated to the 18th century, and that places it in a league of its own.
When Ladbrokes began its online operates, their lineup of sports markets covered many different sports. One of their more popular is tennis, as evident by the number of championship events covered. For this betting review, we'll be reviewing some of the features that their tennis market has to offer and how they fare for the average punter.
---
Customer Care
Aside from the advantages that we have already mentioned above, another worth mentioning is its customer care team. The customer care centre is designed for easy access via many convenient contact options such as live chat, email and telephone. Based on overall reports, the customer service team is extremely helpful and courteous. They will also answer all the questions you have related to betting on the platform or other areas such as banking.
---
Contacts
What you will really love about Ladbrokes is that they have a pretty wide variety of ways to get in touch with the customer service team. In the section above, we already mentioned the two primary ways for contact; the live chat and telephone. Aside from these two, they also have a very active social media presence. They have a pretty active Twitter account and Facebook account, too. They can also be found on YouTube, but you have a better chance of talking to a customer representative through Twitter or Facebook messaging.
Here are some of the contact details that you need to know of:
---
Rating & Conclusion
The Ladbrokes platform in itself is already pretty impressive, so it is definitely no surprise that their tennis section is as well. First of all, many punters love how well organized the tennis section is. It is extremely easy on the eyes as all the information is neatly arranged in categories and subcategories. With many of the traditional bookmaker websites being very cluttered and messy, Ladbrokes definitely has a clear-cut advantage.
Aside from the aesthetics, Ladbrokes also has an excellent selection of events that you can access, including some of the most famous championship. They furthermore provide options for exotic tournaments that you most likely won't find on other tennis betting platforms.
Lastly, they have pretty good odds for their matches. While they may have the best odds in the market, their odds are a little higher than the market standard, and that is a plus if you're a conservative punter.
Now, we'd also like to comment on their promotional offers as their bonuses are rather attractive. However, while they are well within acceptable standards, if you are a high roller, you might not really be able to appreciate the bonuses and might actually think they are quite small.
The more weighted disadvantage would be the fact that not all tennis matches can be live streamed. This is rather disappointing as punters, in general, prefer to watch their games while monitoring their bets on the same website. It can be quite a hassle to look for a third-party streaming service while you monitor your bets.
However, these two disadvantages do not overshadow the good points of the platform. The pros still outweigh the cons in this case. That is why Ladbrokes still deserves to have a total score of 8 over 10.
Last updated: 02 Mar, 2023 at 11:04