Funbet Mobile App
Ad disclosure
Commitment, professionalism and trustworthiness are the core values of NostraBet (NB). We manage to deliver cutting-edge betting products to our readers thanks to our affiliate business model. It is true that NB uses affiliate links to drive traffic to bookmakers. What you must know is that these are free for you to use. Their main purpose is to earn us commissions that will ultimately be invested in the betterment of our product. Visit our
Ad Disclosure
page to learn all the details.
Is there a FunBet mobile app for Android?
FunBet sportsbook is a website that offers gamblers a well-designed interface where they can punt on sports events and play casino games. The platform also possesses multiple eSports for clients who want anything other than actual sports. In short, the bookie is all-inclusive, and so you can perform different types of gambling activities. However, Android users are not lucky. That's because FunBet apk is not available. As a result, FunBet apk download is impossible, and so you cannot punt via an app. That goes to every punter who owns an android phone regardless of the make and brand. However, you can always opt for the mobile version, which is equally impressive and satisfying.
---
Is there a FunBet mobile app for iOS?
Another unfortunate news is that gamblers cannot access a FunBet for iOS application. It is one of the missing components that would have had a transformative impact on the bookie's mobile ranking. Therefore, like Android users, clients with iPhones and iPads have no choice but to use FunBet mobile version to gamble. The good thing about the mobile-optimised site is that it allows gamblers to perform every betting activity. For instance, they can access football games and basketball events. They can also avail table and live games not to mention video slots like Starburst.
In addition to having the above products, the mobile version has multiple payment methods. That is a topic that will be explained later and in details. At the end of the day, you will not mind the absence of a FunBet mobile app. After all, with the mobile-optimised site, you can do nearly everything with your smartphone.
---
FunBet mobile version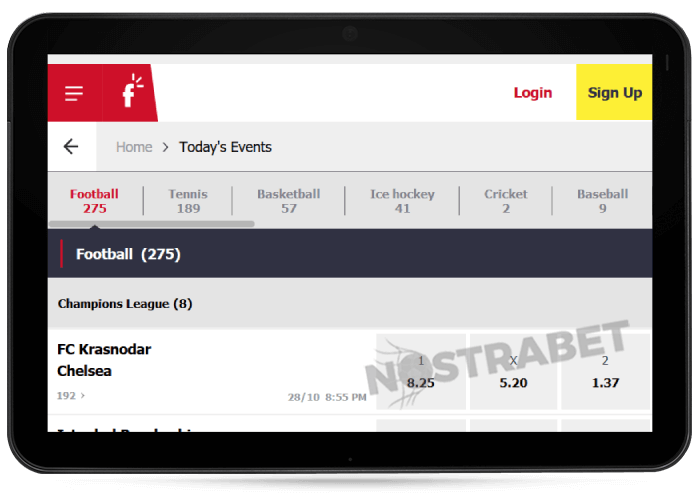 FunBet gambling platform has a mobile website that is exclusive for smartphone users. You can access the mobile version using any compatible Android or iOS device. Unlike the desktop version, the mobile interface is minimised to fit on the screens of smart devices. However, that is not the reason why the platform is attracting punters all around the world. The reason for its magnetic nature are the many advantages that come with using a FunBet mobile site. For instance, for the first time, clients can gamble while walking or commuting.
Furthermore, the interface is straightforward, and so gambling is effortless. Therefore, you don't have to spend too much time trying to wrap your head around the workings of the mobile site. Lastly, you don't have to download app. To punt, you just need a mobile browser that can open up an HTML gambling website. As a result, no wasting of storage and definitely no time wasting trying to install app.
---
Mobile Features
Just like the desktop site, FunBet mobile has features that can help gamblers enjoy betting. In fact, the interface has more functionalities compared to the desktop platform. You just need to know how to use every available feature to benefit maximally. So far, the available aspects that you need to know about include:
Live Betting on Sports
The platform allows live betting on sports. That means you can punt on matches as they continue. The in-play page covers not only actual sports but also eSports. On your phone, the live betting page is situated on the menu below the FunBet advertisement section. As soon as you click the option, the operator will list the kind of live sports available and the number of matches each sport contains.
Some of the games available in the section include golf, table tennis, and basketball. You will also come across football and tennis live games. However, keep in mind that live matches are usually fewer in number. Therefore, don't expect a whole bunch of games.
---
Cash-out
Players who have been punting for a long time will smile on the fact that they can cash-out using their smartphone. The feature is included in the mobile website to increase its functionality. Therefore, you don't have to wait for match completion to find out your fate. You can tactically eject some cash or the entire stake and make the event independent of the results.
However, when using the cash-out function, you need to be keen on particular downsides. For instance, the function can linger, and so once that happens, you will have no choice but to pick another event. What you earn after using cash-out is dependent on the coefficient of the market. Therefore, it can be high or low.
---
Bet Builder
Lastly, on mobile features is the bet builder. The functionality is designed to make sure bettors have an effortless time punting on multiple events. With the feature, you don't have to pick matches one by one. Instead, you let a well-coded and hi-tech system do the bidding and only determine the stake to place once the process is complete. It is quite an impressive function for anyone who lacks time to place multi-bets. Keep in mind that bet builder is only available on the mobile interface. Therefore, you can view it as one of the features the operator is using to market FunBet mobile interface.
---
Available Betting Options thru the Mobile Site
Funbet mobile website has different sections. The operator nicely partitioned the interface not only to achieve an excellent finish but also to make the location of specific products effective. Moreover, the pages add a unique feel, especially to smartphone users who find the desktop platform to be a bit crowded. Some of the pages you will find include:
Betting on Sports
With your smart device, you can punt on different sports events. That includes tennis, football, baseball, and Aussie rules. Furthermore, you can access boxing and cycling without forgetting seasonal games like futsal. Each sport contains hundreds of events with tens of thousands of betting options. In fact, you will be intrigued to find that a single pre-match can have more than 150 markets.
To make sports gambling even more appealing, the operator ensured to cover local and international competitions. That is why you can use your smartphone to punt on Europa league matches. According to numbers, sports betting is one of the most performed activities on the platform.
Casino & Live Casino
Another section you will come across is the casino and live casino page. The live casino section is embedded in the casino page. Therefore, you first have to click the casino before proceeding to the kind of live games you want. For those who don't know, the casino and live casino are the second popular pages in the platform. That's because they contain some of the best gaming software, for instance, Royal Seven, Fire Joker, and Immersive Roulette.
It is also where you will find games like blackjack, poker, and baccarat. The arrangement of the products gives punters an easy time to locate any gaming software they want. On the other hand, the theme and high-quality images add beauty to the site hence making it more alluring.
---
Compatible Devices
Players interested in punting using their smartphone devices must know that there are various aspects to consider. For instance, not just any mobile phone can load the FunBet mobile website. The phone must be compatible, and that means it should have the right OS. According to the operator, a device with Android 7.0 and above or iOS 8.0 and over is applicable. Furthermore, for the smartphone to be compatible, it should possess a screen resolution of at least 720 x 1080 pixels. Otherwise, it will not be able to project the high-quality images the bookie contains. Lastly, the gadget should have the right browser.
These are interfaces you will require to load the website using your smartphone. The best available browsers that work efficiently include Mozilla Firefox, Chrome, and Safari. You can also use Opera Mini since the site is not too selective. All these requirements can be found in phone brands like.
iPhone
Nokia
Samsung
Sony Xperia
Huawei
Oppo
---
Mobile Bonus
The fact that the operator doesn't have any application should be the first signal to tell you that FunBet doesn't offer a mobile bonus. It is rare to find a platform without mobile apps offering its smartphone customers a promotion. However, the lack of mobile-specific prize doesn't mean you have to use your money every time you want to place a bet.
Note that FunBet has a mobile page with customer rewards. That includes the free bets for clients as well as the combi boost. You can also access the FunBet welcome bonus for new clients. That is the benefit of the mobile interface. However, it would be better for the operator to include a mobile promo for the purpose of marketing the sites.
---
Payment Methods
FunBet website has an interface complete with payment platforms. The management did not want to see its clients juggle desktop and mobile sites whenever they wish to initiate deposits or withdrawals. As a result, you can choose from a variety of payment options and use them to transact using your phone.
| Payment Method | Deposit Minimum | Deposit Maximum | Time for Deposit | Minimum Withdrawal | Withdrawal Maximum | Time for Withdrawal |
| --- | --- | --- | --- | --- | --- | --- |
| Visa | €/$10 | €/$5000 | Instant | €/$20 | €/$5000 | 1-3 Business Days |
| Neteller | €/$10 | €/$5000 | Instant | €/$20 | €/$5000 | Instant |
| Skrill | €/$10 | €/$5000 | Instant | €/$20 | €/$5000 | Instant |
| Paysafe Card | €/$10 | €/$5000 | Instant | N/A | N/A | N/A |
| EcoPayz | €/$10 | €/$5000 | Instant | €/$20 | €/$5000 | Instant |
| MasterCard | N/A | N/A | N/A | €/$20 | €/$5000 | 1-3 Business Days |
| Maestro | €/$10 | €/$5000 | Instant | N/A | N/A | N/A |
| Zimpler | €/$10 | €/$5000 | Instant | N/A | N/A | N/A |
| MuchBetter | €/$10 | €/$5000 | Instant | €/$20 | €/$5000 | Instant |
| MiFinity | €/$10 | €/$5000 | Instant | €/$20 | €/$5000 | Instant |
| Bank Wire Transfer | N/A | N/A | N/A | €/$20 | €/$5000 | 3-5 Business Days |
---
FAQs
Was the mobile website of Funbet ever not working?
There is no record of the mobile website of FunBet being down for a long period of time, just the usual maintenance.
What if it won't load on my mobile browser?
In case your site doesn't load on your browser, check the compatibility of the phone. Thereafter, contact customer support.
Can you change the odds from fractional to decimal?
You can change your odds format. In case you want to toggle the odds type. Click the menu, then the setting icon and thereafter change the odds to decimal.
How to use the FunBet mobile site?
Using the mobile site requires you to log in, pick the sport, analyse the markets and select the odds. Thereafter, you have to decide the stake and place bets.
Are there free casino games?
In case you don't have cash, you can play free casino games. However, they are only limited to slots and table games.
Can I access eSports on my FunBet mobile?
You can always access eSports using your smartphone. However, finding games can be tricky. The operator has them on the list of sports below darts.
Am I able to verify my account using my mobile phone?
Verifying your account using your smartphone is allowed. However, ensure copies of the documents are in your phone.
Can I change my FunBet mobile account language using my phone?
You can change your language using your phone. In case you want to, open the settings page and pick an option.
---
Mobile Rating & Conclusion
FunBet mobile platform is an advanced interface that allows you to punt on matches undistracted. In case you are not good with the desktop website, use a browser to open the mobile webpage. However, you should be ready for a couple of disappointments. For instance, the mobile platform doesn't have a bonus. Furthermore, there isn't a FunBet mobile app that you can use. But the good news is that due to the lack of a FunBet app you don't have to download FunBet for android phones. Instead, you just need a working and updated browser.
Last updated: 15 Sep, 2023 at 02:00