Football Index Review
Football fans have long had the chance to bet on successful teams but thanks to Football Index, they can now bet on the future success of individual players too. Replicating a traditional stock market, users can buy and share sells in players, putting their football knowledge to the test in an exciting variation on fantasy football betting. It is a model that works for most with only 2% of Football Index users saying they tended to lose money compared with 74% of people using traditional gambling. We are fascinated by the concept but is the execution as good as the idea?
---
Website Review – Design and Menus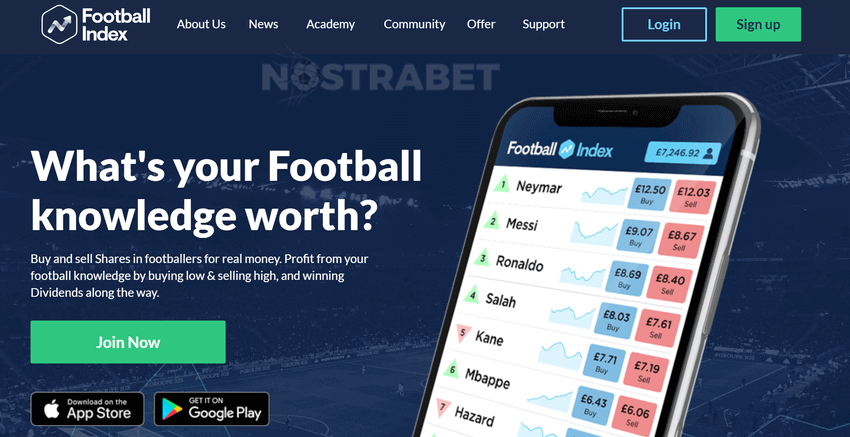 Although Football Index does not replicate a traditional sportsbook in design, its reliable site is incredibly user-friendly; however, you choose to access it. It is extremely easy to locate footballers and to see their buying or selling price and just as rapid, with pages loading almost instantly. User portfolios are neatly organised, allowing traders to see all their assets in one place. Down the right-hand side of pages, you will see useful information such as current promotions, dividend winners, recent trader activity, as well as Football Index's latest tweets.
---
Steps for Registration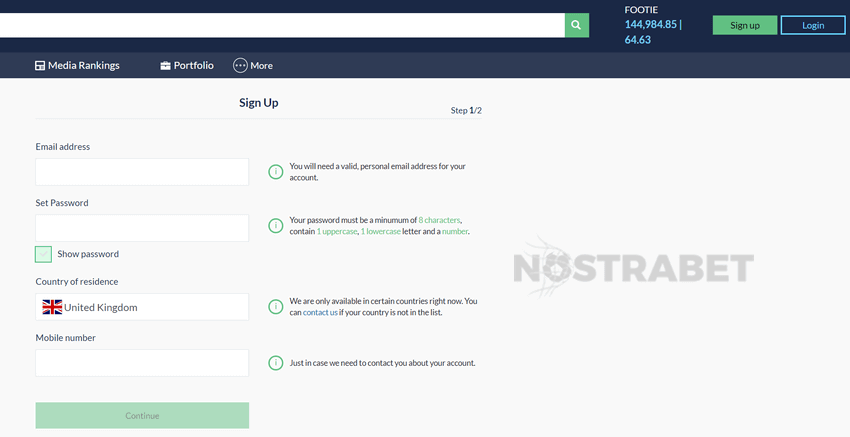 Click the sign-up button located in the top right-hand corner of the screen.
Enter your email address, country of residence, mobile phone number and create a password.
On the next stage, you will need to enter your name, address and date of birth. You can leave the referral code blank as you do not need this to claim the welcome offer.
After entering the above details, click that you accept the Ts and Cs, privacy policy and cookie policy and then click 'Sign Up Now'.
At this point, Football Index will attempt to verify your details automatically. They can do this successfully in most cases, but on occasion, customers will need to provide confirmation of their identity and address before they can start trading.
---
Welcome offer – £500 Money Back Guarantee
Protect yourself against losses thanks to Football Index's money-back guarantee for new customers. Begin trading on the website, and if you have not made a profit within your first seven days, Football Index will refund your losses up to the value of £500. To claim your money back, you must sell your shares (using the instant sell function) and email the customer service team who will credit you with any lost funds.
New to the game, it can be easy to pick the wrong approach, but this excellent offer ensures that fresh traders can learn from their beginner mistakes without it hurting their balance. And of course, if you take to Football Index quickly, or simply hit some beginner's luck, any profits you accuse are yours to keep.
*New customers only. Min. deposit £10. Max. refund of up to £500 to be claimed within 7 days of first deposit. 18+ only. Account required. UK only. Additional T&Cs apply*. Please gamble responsibly.
---
Football Index Game Rules
If you are entirely new to the concept of Football Index, or stocks trading more generally, there is a bit of reading to do before you get going. Below we explain the key rules of the site, hopefully giving you a much better understanding of how it works.
Top 200
The top 200 list comprises of the highest priced footballers on the Football Index site. All the players on the list are eligible for Media Dividends (MD) and Match Day Dividends (MDD), two things we will explain in greater detail below. Players move in and out of the top 200 at 0:00 (London time). Occasionally, newly added players will go straight into this exclusive club, and their price will be determined by Football Index.
Squad Players
All players outside the top 200 are also eligible for Media Dividends and Match Day Dividends. As before, the Football Index may also introduce new players into this section, referred to as an Initial Player Offering (IPO). The IPOs will be published at a price Football Index deems appropriate on their news blog at 12:00pm the day prior.
Media Dividends
Within the live ranking section, there is a subsection titled 'Media'. Here, Football Index monitors all major UK online football news and uses this to produce a daily score for each player. On match days, the player with the highest score (determined by the number of media name-checks they accrue) by 12:00am is declared the winner and will subsequently claim the MD. On non-match days, the top three scoring footballers are handed an MD. Payouts for the dividends take place between 12:00am, and 3:00am on the day immediately following the awarding of the MD.
Match Day Dividends
MDDs work in a very similar fashion as above. Still, for these, scores are calculated on football performance across the top five leagues (Premier League, La Liga, Serie A, Bundesliga, Ligue 1) as well as the Champions League and Europa League. Player performance is determined by a list of weighted statistics or rather, the points scoring system, something which can be viewed by all.
The scoring system rewards players for a wide range of positive actions such as shots, tackles, fouls won and docks them points for things such as yellow cards, missing penalties, and conceding a goal. Goalkeepers have a few additional point-scoring actions unique to them to ensure they can compete without outfield players.
All player statistics are provided by an independent third party, Opta. The top-ranking footballers in the 'Match Day' section will be eligible for an MDD, but the dividend paid out depends on the number of, and prestige level, of the matches taking place that day. The lowest MDD is £0.03, with the highest £0.08 per share.
Buying Shares
Traders can purchase up to 300 shares for each footballer at the listed price during any one transaction, but you can make as many transactions as you wish to buy more shares providing you have sufficient funds. A time-stamped record of your purchases are held in the transaction history section of your account and can be archived up to three months after the purchase date.
Retirement
In the event that a player retires or passes away, Football Index will remove them from the site, and any bets placed on them (shares bought) will lapse. Players can also be removed if they have not featured in an eligible competition during the preceding calendar year or have been sentenced to a period in prison.
---
How to buy shares at Football Index?
If you are convinced you have been able to scout out the next big footballing talent on the continent, then Football Index allows you to put your money where your mouth is. Simply find the player using either the Top 200 or Squad List, or by using the search bar at the top of the screen. Click the blue 'BUY' price and then decide exactly how many shares you wish to purchase. The total cost of the transaction will automatically be calculated, so you know exactly how much will be debited from your balance. After clicking buy, you will then be asked to confirm the transaction with an optional tick box asking if you are willing to accept any sudden price movement.
All your purchases will feature in your portfolio tab. Here you can see the cost of your purchase, the current value of the stock and the profit/loss. The list is ordered by oldest to newest, so you may need to scroll down to see your most recent purchase.
---
How to sell shares at Football Index?
As standard, a share lasts for three years from the date of purchase before the stake is lost and traders lose their right to claim dividends. It is up to traders to take steps to sell shares or re-buy new shares in the same player in order to reset the share expiration period. Always when selling, your oldest acquired share is sold first. Up to 300 shares can be sold per transaction, and via either method, Football Index charges 2% in commission and a minimum of 1p for each transaction.
Shares can be sold via two methods, instant sell or sell queue. Instant sell involves traders selling their shares back to Football Index, usually at around 3% lower than the current price. Still, it can be higher in certain instances. If choosing this option, the sale is completed immediately with the money instantly credited to your account.
Alternatively, traders can choose the 'Join sell queue' option as they search for buyers to claim their unwanted footballer stock. If attempting to sell a footballer in demand, finding a buyer could take only a matter of minutes, but for unpopular players, it could take weeks or even months. Although the sales are not instant via this method, they do often result in better prices as other Football Index users will buy your shares as the current 'Buy price' rather than the 'Sell price'.
Prices cannot be guaranteed; however, as the footballer's price may change between the point of making the request to the date of the sale. To protect yourself from any large swings, users can set a reserve price to ensure that shares are not sold below a specific limit. It is also possible to cancel a sell order so that shares are no longer available to purchase should you change your mind.
---
Matchday Live Rankings trading
Footballers who played earlier in the day or are currently playing, feature on the live 'Match Day Rankings' leaderboard. Each player has a score depending on their performance, and naturally, these high scoring players are more likely to attract some activity in the market. In order to gain match day dividends, shares in a player must be bought before 15:00 on that day.
---
Football Index Academy
In much the same way that budding young footballers attend academies as they hope to secure a professional contract, Football Index also offers their own academy for further growth. They provide new traders with an extensive amount of useful guides and tips which are well worthy of a read before you start spending your cash. Everything is explained in a clear and concise way, allowing users to get a grasp off the fundamentals in next to no time.
The academy is not just for beginners though, as there is a section for existing traders too. This part of the academy points you in the direction of the Football Index forum, a place consisting of over 35,000 users and which sees over 13,000 posts in a typical month. This active messageboard of enthusiastic traders discuss things such as transfer speculation, exciting prospects or tips on who to buy. A valuable resource for any trader, all contributions and queries are welcome here, and as forums go, it is friendly, polite and collaborative.
---
Odds
As with any stock market, supply and demand dictate the buying and selling price of players at Football Index. New players are introduced at a price subject to the discretion of Football Index but once live, they are entirely are the mercy of market forces. Share prices usually vary from as little as £0.08 and can rise more than £8 for the most elite players in the game, or simply those who are in high demand.
---
Football Index Mobile app
As Football Index does not have masses of information to show, primarily just the buying and selling price of players, it works extremely well on a smaller mobile screen. The volatility of prices means many traders need quick access to their accounts, and both the Android and iOS apps facilitate just that. Both apps are monitored continuously to fix any minor bugs, but such problems are a rarity with both proving extremely reliable and responsive. The perfect accompaniment for any trader, the mobile app is something we strongly recommend you download.
---
Payment methods
| Payment Method | Deposit Minimum | Deposit Maximum | Time for Deposit | Minimum Withdrawal | Withdrawal Maximum | Time for Withdrawal |
| --- | --- | --- | --- | --- | --- | --- |
| Visa | £10 | Not specified | Instant | £10 | Not specified | 2-5 working days |
| MasterCard | £10 | Not specified | Instant | £10 | Not specified | 2-5 working days |
At the moment, Football Index only accepts credit/debit card payments (Visa or MasterCard). It is prohibited to make a deposit using somebody else's card, and any withdrawals must be made to the card you made a deposit with. Both the minimum deposit and minimum withdrawal amount is £10. Deposits should show in your account instantly, but you must allow up to 10 working days before withdrawals show in your bank account.
---
Security and Regulation
Football Index operates in accordance with the General Data Protection Regulation (GDPR). The types of data collected, and the reasons for it are made clearly available in what is a highly transparent privacy policy. Only if you choose to opt-in will your personal details be shared with any outside company.
Measures have been put in place to prevent all personal data from being lost, used or accessed in an unauthorised way. There are additional procedures to detect any kind of data breach. In such an event, all impacted customers will be notified, along with the relevant regulatory body.
Football Index holds a valid UK licence issued by the Gambling Commission, licence number 000-043061-R-322161-009. The Gambling Commission is arguably the most respected and thorough regulatory body in the world.
---
Affiliate program
Although Football Index is an increasingly recognised name, they are still eager to recruit more affiliates to assist with their continued growth. By promoting the brand, affiliate partners can earn up to £100 for each depositing user, and there is no upper cap on total earnings. Dedicated and personalised support is on hand as well as a wide range of tools and resources which can help members of the team drive more traffic to the site.
You can learn more information on that page – Football Index Affiliate Programme.
---
FAQ's
How to verify my account?
For most traders (around 80%), verification is carried out automatically behind the scenes without you having to do anything. For the remaining 20%, one will need to supply Football Index with a valid form of personal identification, for example, a passport or driving licence and proof of address dated within the last three months such as a utility bill. Documents can be sent via email to support@footballindex.co.uk.
What to do if I forgot my password?
Head to the login page but rather than guessing your password click the 'Forgot password?' button. Then simply submit your email address and Football Index will instantly send out a link allowing you to reset your password.
Do you accept registrations from my country?
Football Index only has permission to operate in a limited number of jurisdictions. As such, only residents from the following countries/territories can open an account: Canada, Guernsey, Ireland, Isle of Man, Jersey, New Zealand and, of course, the United Kingdom.
Do I have to pay tax on the money I make?
Unlike financial stock markets, traders are not liable to pay tax on any money made. In this sense, profit at Football Index is like gaining profit at a traditional bookmaker.
How old must I be to have an account at Football Index?
Although it may not be gambling in its traditional form, it is illegal for anyone under 18 to open an account, or gamble at Football Index. Customers that use payment methods available to persons under the age of 18 undergo electronic age verification checks to ensure they are of legal age.
I have a complaint, who should I contact?
In all situations, you should first speak Football Index directly who will begin an investigation into the matter within one business day. Once they have provided you with a final decision if you are still unsatisfied you may take your complaint to the Independent Betting Adjudication Service (IBAS) or refer the problem via the European Commission's Online Dispute Resolution platform.
Am I free to choose any name for use on the community forum?
No, all display names must be unique, not associated with another trader and not deemed offensive or deceptive. Football Index will contact any user using an offensive or deceptive username and request that it is changed.
The payment card saved on my account has been lost/stolen. What should I do?
Should you lose access to any of the cards used to make a deposit at Football Index, speak to a member of the Security Team who will remove this card from your account.
Can I close my account at any time?
Yes, in order to close your account, send an email to support@footballindex.co.uk at any time stating that you wish to close your account permanently.
Can I place deposit limits on my account?
Yes, traders can create a deposit limit themselves by clicking on their account and then 'Deposit limit' (who would have guessed?!). Here you will be able to create, daily and/or weekly and/or monthly limits to ensure you stay completely in control of your gambling.
What are the eligible competitions?
Football Index only records performance statistics for matches that take place in the Champions League and Europa League, the Premier League, La Liga, Serie A, Bundesliga and Ligue 1.
---
About Football Index
Football Index claims they are revolutionising football betting and it is something hard to deny as the concept is taking fans by storm. Starting from scratch, the brand now has over half a million traders, and in 2019 it saw over £450m of player stock bought and sold. It is owned by BetIndex Limited, a privately owned Jersey-based gambling operator established in 2015.
Eager to spread their presence around the globe, Bet Index Ltd. announced in 2018 that they would expand into Sweden and Canada. While able to retain its presence in Canada, due to changes in policy by Visa and MasterCard concerning gambling payments in Sweden, Football Index had to pull out of Scandinavia.
---
Customer support and contacts
There are several ways of getting in touch with a customer service representative. During operating hours, live chat can be accessed via the blue button located in the bottom right corner while on the Help and FAQ page. Customers can also direct a message on Twitter to @FootballIndexCS or send a direct message on Facebook. Alternatively, enquiries can be sent via email to support@footballindex.co.uk.
The support team can respond to queries Monday-Friday from 03:00 – 20:00 and on Saturdays, Sundays and Bank Holidays between 09:30 – 18:00.
There is no phone contact number for general enquires but customers wishing to make a complaint can call 0800 066 2650.
---
Rating & Conclusion
The unique Football Index concept might not be for everyone, but we believe that a large portion of football fans will have a fantastic time here. In many ways, it is the ultimate test of your football knowledge as you need to know which players to buy and at what moment to sell them off. While you may already know plenty about European football, to begin with, the active community of Football Index traders will no doubt help expand your knowledge, pointing you towards up-and-coming stars you were previously unfamiliar with.
What we also like about Football Index is that you can carry on winning thanks to dividends. Unlike your usual sports betting where you either win or lose, dividend payments ensure that your best picks carry on rewarding you again and again. There's also the added element that you are constantly involved with investments often lasting for several years, unlike a bet which is settled at the weekend.
With losses up to £500 covered for all new customers, there is absolutely no reason not to give this website a try and see if you love it as much as we do. It is not a place that can turn you into an instant millionaire, but with careful planning and smart selections, you can watch your portfolio grow and grow.
Overall score: 4.3/5
Last updated: