Ad disclosure
Commitment, professionalism and trustworthiness are the core values of NostraBet (NB). We manage to deliver cutting-edge betting products to our readers thanks to our affiliate business model. It is true that NB uses affiliate links to drive traffic to bookmakers. What you must know is that these are free for you to use. Their main purpose is to earn us commissions that will ultimately be invested in the betterment of our product. Visit our
Ad Disclosure
page to learn all the details.
How to Download BetVictor mobile app on Android?
Downloading BetVictor's Android app is super easy and won't take any more than a couple of seconds. To begin, simply go to the website of the bookie and then navigate to the section called "Mobile".
From there, you have two options that you can choose from:
Click the hyperlink called "Download the App from the Google Play Store".
Scan the big QR Code that's located on the left.
It doesn't really matter what option you go for because you will get the same result. That said, it seems like the QR Code might be just a little bit faster.
When it comes down to mobile applications, it is really hard to get any better than this. BetVictor has one of the best mobile apps in the world. It is blazing fast, super easy to use, and can be downloaded both for Android and iOS.
---
How to Install BetVictor mobile app on Android?
Once you are done with the downloading process, it is now time to install the app on your device. If you chose to download Bet Victor from the Google Market, you wouldn't have to go through any additional steps. If you got the .apk file from anywhere else, however, you may have to set up your device. Usually, this shouldn't be that hard, but there are a few steps that you have to follow:
Installing the BetVictor Mobile App On Your Android Device:
After you're ready with the download of the APK file, you have to change a security option that's located in the "Settings" menu of your Android Device.
Go to the Security Settings and allow the installation of Unknown Sources.
Once done, simply click on the file and start the installation process.
While it's true that it will take a couple of minutes, the result is definitely worth it. You will be amazed by the fluidity and the beauty of this app.
---
How to Download BetVictor mobile app on iOS?
Unlike other online bookies, BetVictor has a fully-fledged iOS application at your disposal. Downloading it is as easy as on your Android Device, which means that it is very fast.
To begin, simply open BetVictors' desktop website and find the menu called "Mobile."
From there, either use your device to scan the QR code or just click on the Download button you will find.
Once you download the BetVictor mobile app, you will find it to be absolutely amazing. It has a very user-friendly interface and most importantly – it runs like a clock. This is a very important thing when it comes down to online betting.
---
How to Install BetVictor app on iOS?
Installing your iOS BetVictor app is a walk in the park. Here is what you have to do:
Installing the BetVictor Mobile App On Your IOS Device:
Regardless of the iOS devise you're using, all you have to do is open the App Store on it and then download the app.
Once ready, your iPhone or iPad will automatically begin to install it. Unlike Android, there is no need for you to do anything else!
The only thing left for you to do is to log in with your account and start winning.
As long as you have a connection to the internet, you will be able to play from anywhere in the world.
---
Benefits of BetVictor mobile app
Apart from the sheer convenience you get, BetVictors' mobile app actually runs smoother than the desktop site. Although you might not notice it at first, everything tends to load just a little bit faster. This is a truly astonishing thing because in most cases, the apps of the bookies tend to be very troublesome.
Regardless if you like sports or the BetVictor mobile casino, this amazing app guarantees that you will have a trouble-free time while you're enjoying your favourite game.
---
How to use the app?
You would have absolutely no problems using the app if you played on the desktop site before. The entire theme of the mobile app is the same in terms of the colours and the menu layouts. In fact, some of the options such as the Tutorials, for example, are easier to use.
Even if you never visited the desktop site, getting used to the Android and iOS mobile applications won't take more than a couple of minutes. After all, everything is put together nicely with the sole purpose of making it more relaxed for the end-user.
---
Mobile Website Version Overview
If you are one of those people that don't have an iOS or Android device, you will find this information very useful.
Apart from having a standalone app, BetVictor also has a mobile site. This is actually a faster and simpler way to start playing on your mobile device. In other words, if you want to avoid all the hassle of having to download and then installing an app, you can simply play from your mobile browser.
Yes, that's the only thing you have to do here! Open the browser of your mobile device and type www.betvictor.com, and you're good to go.
Once in, you will be surprised by the overall layout and design. In fact, it is nearly the same as the one you will find on your desktop. As mentioned above, if you have any previous experience with this bookie, navigating on the mobile website won't be a problem.
---
Available BetVictor betting options thru the mobile app
After we saw how you could access the mobile app or site of BetVictor, it is now time to check what can you find there. Spoiler alert – there are probably more options than you can imagine.
The good thing is that there are no exclusive BetVictor online betting options for a platform. In other words, regardless if you use iOS, Android, or a BlackBerry, you will still have the same features.
Sports betting Availability: Horses and Football in focus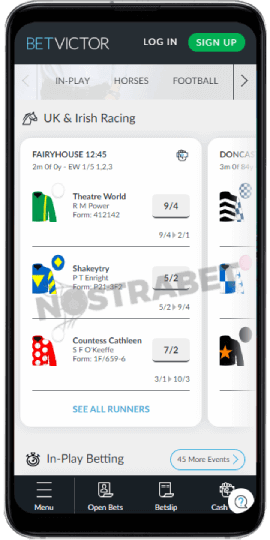 While it's true that BetVictor has an amazing Casino, we can safely say that the Sportsbook they offer is definitely more popular. In fact, many punters consider BetVictor to have the best Sports section in the world.
Luckily, mobile and app users have access to the same experience as their desktop colleagues. You can browse through 35+ sports offered by BetVictor before you find what works best for you. According to BetVictor's punters, the website is a heaven for football and horse racing betting. There is a lot on offer for these two sports. However, even if you're into the "trendy" things like eSports, the BetVictor mobile app and website will have you covered.
Live Betting Markets: How you Can Win while the Match is On-the-Go?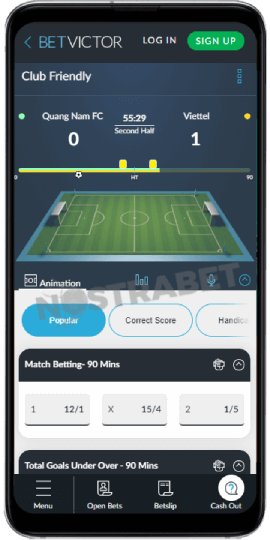 Placing a bet on your favourite team is one of the most exciting things. However, what if you can make this experience even better? With BeVictor's "In-Play" sections, your dreams will become a reality.
This amazing option allows you to follow your favourite team live and place bets while you're "on the go". Not only is this more engaging, but you can also benefit a lot from your sports knowledge.
Similar to the desktop site, BetVictor offers a wide range of live sports on mobile. Some of them are:
eSports
Tennis
Football
Cricket
Badminton
Volleyball
Slots and Live Casino games
Once you get tired of all the sports activities, it's time to check out the Bet Victor Casino. Even though BetVictor is mostly famous for its Sports section, this doesn't mean that the Casino is bad. In fact, this online bookie has one of the biggest selection of games.
What's more, these Casino games are provided by some of the oldest and most reputable names in this industry, which guarantees that you will get the best possible experience. You can choose between Slots, Table Games, Jackpots, and more.
If you ever get tried from the ordinary Casino games, why don't you try out the Live Casino? This is the best way to get the ultimate casino experience from the palm of your hand. Regardless of where you are, as long as you are connected to the internet, you can simply use your mobile login and enjoy all the available live games. This includes Roulettes, Blackjack, Game Shows, Card Games, and more.
Virtual Sports
Betting on your favourite sports is amazing, there is no arguing that. However, what if your favourite team is not playing today? What if there are no matches in the next couple of days?
BetVictor offers a solution to all these questions by providing its users with Virtual Sports. Regardless if it's 1 AM or on a Monday morning, you will always find something waiting for you.
Right now, you can choose between the following Virtual Sports: Horse Races, Dog Races, Basketball, Football.
The best thing about all this is that you can bet on these virtual sports from your mobile device. This is a great way to make your lunch breaks just a little bit more exciting.
---
Notable Apps Features
Generally speaking, every single feature that's available on the desktop site is also accessible via the app. They all work flawlessly and guarantee that you will have the same if not even better experience while playing from your mobile device.
Cash out
It's safe to say that watching your bet going down is one of the worst feelings in the world. Unfortunately, every punter goes through this at least once in their lifetime. That said, what if there is a way to prevent this from happening?
Believe it or not, BetVictor actually came up with a solution. If you take advantage of their cash out option, you can save at least a portion of your bet when things are not going well. Also, this amazing feature can save you time or your bet when things are starting to get risky.

---

Live stream
While BetVictors' "In-Play" section is truly remarkable, there are many bookies out there that also have a similar feature. However, when it comes down to actual live streaming, that's not the case. In fact, only a fraction of the betting websites out there offer some kind of a live streaming feature.

Again, BetVictor is one step ahead of the competition by offering a fully working live stream option. Although it's only available for the horse races, this prospect is the closes thing you will get to a real betting experience. After all, there is nothing better than watching what's happening with your bet with your own eyes.

All you have to do to take advantage of this offer is to place a minimum of £1 as a bet. Once done, just wait a little bit until you receive a notification indicating that your game is ready to watch.

The coolest thing about the Live Stream is that it also works on your phone! Despite the smaller screen size, the HD stream makes watching the game from your mobile device truly amazing.
---
Differences between the mobile app and the website version
Apart from the obvious need of downloading an external file, the overall layout of the mobile app and website version is pretty much the same. Both of them offer a world-class experience for the user. You can find everything that BetVictor has to offer on both, so you won't be missing out on some of the features.
However, it seems like the website version is just more convenient to use. There is no need to download any files, which makes it easier to access. Another big advantage is that the website version doesn't take any space in your mobile device.
On the contrary, a big plus for the mobile app is that it just looks a little bit better. Of course, the difference is negligible, but it's still something worth mentioning. Also, the app tends to have better loading times in certain situations, which is a very significant advantage over the website version.
However, this does come at a price because you have to go through the installation process. Although the BetVictor iPhone and iPad app are fairly easy to install, the Android one can be a little bit more complex.
---
System requirements and device compatibility
Ever since the smart devices took over the world, we have to think whether a certain app will be able to run on them. After all, they are basically pocket computers.
Luckily, the amazing BetVictor mobile app will run perfectly fine on any modern device. As long as your Android version is over 5.0 (or you're running iOS 10 or newer), you shouldn't have any trouble running the app.
With that said, the app will run smoothly on devices such as:
Google Pixel
iPhone 6S, 7, 8, X
Redmi K30
Samsung Galaxy 4,5,6
Redmi Note 3
Samsung Galaxy Note 4, 5
Sony Xperia 1,5, 10
HTC Desire S
LG G3,4,5
Remember to check the version of your OS before you decide to get the app. We strongly advise you to have the latest update on your device because it helps you to have a better experience.
---
Mobile bonus offer
Despite its top of the line mobile app and mobile website, BetVictor currently doesn't have any specific mobile bonuses. Although this is a bit disappointing, you still have a lot of offers to choose from. In fact, every single one that's available to the desktop users can also be accessed via your mobile device.
If you want to check what are the latest proposals, simply click on "Promotions". Remember to check it out regularly because there is nearly always something new. There, you can read about BetVictor Free bet conditions and other offers' rules.
How to use Free bets on BetVictor App?
The way to bet with your free bets from the bookmaker is the same as on the desktop website. When you claim your welcome bonus and receive the free bets, you can place them on different events. When you place your free bet, remember that if you win, only the clear winnings from the bet will be transacted to your account. The bet amount itself is not part of the payment when it is a free bet.
---
Deposits and Withdrawals
BetVictor offers the most modern and popular payment methods currently available. Every single one of them is very flexible and allows you to deposit and withdraw hassle-free.
First, let's take a look at all available methods for moving your cash, as well as their limits:
Deposit Methods
Withdrawal Methods
| Payment Method | Deposit Minimum | Deposit Maximum | Time for Deposit |
| --- | --- | --- | --- |
| Visa | £5 | £20,000 | Instant |
| Bank Wire Transfer | £25 | £100,000 | 2-5 working days |
| Paysafe Card | £10 | £2,000 | Instant |
| MasterCard | £5 | £20,000 | Instant |
| PayPal | £10 | £5,500 | Instant |
| Entropay | £10 | £20,000 | Instant |
| Revolut | £10 | £20,000 | Instant |
| Payment Method | Withdrawal Minimum | Withdrawal Maximum | Time for Withdrawal |
| --- | --- | --- | --- |
| Visa | £10 | £20,000 | 24 Hours |
| Bank Wire Transfer | £25 | No limits | 2-5 working days |
| Paysafe Card | £10 | £20,000 | 24 Hours |
| MasterCard | £10 | £20,000 | 24 Hours |
| PayPal | £10 | £20,000 | 1-2 working days |
| Entropay | £10 | £20,000 | 2-5 working days |
| Revolut | £10 | £20,000 | 1-2 working days |
Although these methods are instant, their max deposit amount is not that high. So, the only way to add more money to BetVictor is if you use a Bank Wire Transfer. While it's true that it will take more time (2 to 5 days), you can deposit as much as £100,000.
When it comes down to make a withdrawal, every method works just fine. Then again, the Bank Wire Transfer is also the best one because it has no limit in terms of the amount you want to get.
On the other hand, all other payment methods can work anywhere between £10 and £20,000. Usually, this process takes 24 hours. However, if you decide that you want to use the bank, you will have to wait a bit longer (1 to 5 days).
---
FAQs
Was it ever not working?
The BetVictor mobile app is working flawlessly. As long as your device meets the requirements, you should be fine.
What if it won't install?
If you fail to install the app, you can always use the mobile version of the website.
How does the BetVictor app work?
Our experience with the mobile app of BetVictor shows the app is running smoothly and without any bugs. We suggest always to update the app to its latest version and use a stable network connection.
Is the app design of BetVictor better than this on the mobile version?
No, both use equal layout design and look the same.
Can you change the odds from fractional to decimal?
Yes! BetVictor allows a lot of customization when it comes down to betting.
Can I run the app from my iPhone 6?
Yes, as long as it runs on iOS 10.0 or higher.
Is there BetVictor poker app for Android or iOS?
There is only one app of BetVictor for every betting option.
Is it possible to use the Live Stream feature to watch tennis?
Unfortunately no. The only sport that's currently live-streamed is horse races.
Can I deposit with PayPal from my iPad?
Yes, all deposit methods work from your mobile devices.
What if I can't find the Bet Victor app on the Google Play Store?
You have to go to their desktop site and click on "Mobile." After that, just scan the QR code.
The website version of BetVictor is lagging, what can be the problem?
Check your internet connection because this usually causes the problem.
Can I manage the affiliate program of BetVictor through my phone?
Yes, Bet Victor affiliates can be accessed directly through your mobile device.
---
About BetVictor
BetVictor is one of the oldest and most reputable companies in the betting business. After it was created in the first half of the 20th century, it quickly became a huge hit. Apart from a long "offline" history, BetVictor also has over 20 years of "online" experience as well. This means that they definitely know what they're doing.
BetVictor is often considered as the place with the best odds. This, plus the latest security technologies available, make it the go-to option for punters from all over the world.
Country Restrictions and Availability
---
Conclusion and Apps rating
As we mentioned numerous times throughout this review, it's really hard to get any better than BetVictors' mobile app. Everything works perfectly without any issues. Regardless if you like sports or casino games, you won't be disappointed.
Every single desktop feature is available to mobile users as well, which makes the app unique. After all, it allows you to get the full BetVictor experience from the palm of your hand. Our final verdict about BetVictor app is that this is a reliable bookie with some restrictions in terms of countries, but it could be the right choice for every bettor where BetVictor has a license.
Last updated:
BetVictor is available on these devices
| Brand | Models |
| --- | --- |
| Apple | iPhone 5, 5S, 5C, SE, 6, 6S, 7, 8, 8 Plus, X, XS, XR, 11, iPad, Air, Mini, Pro |
| Samsung | S6, S7, S8, S8+, S9, S9+, S10, S10e, S10+, S20, S20+, Tab, Edge, Edge+, Note, Mini, A41, A71, A51, A90, A3, A5, A7, A8, S, pro, Xcover 3 |
| Sony | Compact, Premium, Compact, Plus, Xperia M5, 1 II, 5, 10, Z5, ZR, E5, V, L, SP, ZL, XZ, X, XA, XA2, Ultra, XZ2, Tablet Z4, Z3 |
| Huawei | P10, P30, P40 Pro, P40 lite, P9, lite, Mate 10 Pro, 20 Pro, plus, Mate S, XS, 30 Pro, Y6, Y6s, Y7, MediaPad T5, M5 |
| HTC | Nexus Series, One mini, max, A9, A9s, S9, 10, Dual SIM, U11+, U12+, U Ultra, Play, Lifestyle, Desire 19+, 12, 12+ |
| Motorola | Moto e6, One Zoom, One Action, razr, G power, g stylus, edge+, edge, Moto E, moto g fast, one fusion+, one, moto g7 play, moto z4 |
| Google | Pixel 2, 3, 4, 5 all XL |
| XIAOMI | Redmi 8, Redmi 9, Redmi K30 Pro, Mi 10 Lite, 10 Pro, 9 Pro, MIX Alpha, Note 10, 10 Pro, Note 9S, Note 9 Pro Max, 8A Pro, 8A Dual |