BetJoe Review
Although the masterminds behind BetJOE have years of experience in the gambling industry, BetJOE itself is a recent addition to the market having been founded in 2018. They market themselves as a cutting edge sportsbook and casino that boasts a large number of sports and eSport betting options featuring some highly competitive odds.
---
Website Review – Menus and Navigation
Black, blue and grey colours dominate the pages at BetJOE, which has a reasonably neat and tidy design, but it lacks any real innovation. The site is simple to navigate with all the main categories featuring across a horizontal menu bar across the top of the page, for instance, sports or live casino. When hovering over each one, a relevant graphic will appear, which makes for a nice little touch to add a bit of life to the site.
Each separate section of the website comes with its own menu located on the left-hand side of the screen, allowing you to narrow your selection further. Helpfully, the sports menu includes the number of fixtures available for each sport with a further breakdown featuring when you view the drop-down list within each sport. While a helpful way of seeing what sports are available, the tick box feature does not appear to work and therefore users cannot view multiple different leagues or competitions at once, though this may just be a temporary glitch.
---
Registration Steps
BetJOE welcomes new players on their landing page, encouraging them to enter their first name, last name and e-mail address to begin the registration process. Once you have filled in these three lines and hit the 'Join Now!' button, you will then need to create a username, double-check your e-mail, select your country and preferred currency, and choose a password.
New customers must also click the box confirming they agree to the BetJOE terms and conditions, but they can opt-out of receiving bonus and marketing e-mails. That is everything new customers need to fill out, making it an unbelievably quick and easy registration process.
Unlike most sites, BetJOE does not stipulate rules regarding passwords so you can actually input a password one character long. We would strongly recommend something stronger than this, though, as it will help keep your account more secure. However, this is a nice feature as it means you can use your usual password, even if this too goes against most security guidelines.
---
Welcome bonus – 100% up to $5000
Make a deposit of at least $25 USD on BetJOE to receive a 100% instant cash bonus up to the value of $1000 USD per deposit. To get this bonus, you need to use a special promo code which is JOE5K. New customers can claim the offer on their first five deposits, giving a total maximum bonus of $5000 USD. That's hugely generous and gives you 5,000 big reasons to try BetJOE. Note that all promotional money must be rolled over 10x times (deposit + bonus) at odds of at least -144 (1.70) and within 60 days of first being active.
Also, note that BetJOE has the right to ask for additional identification documents prior to the awarding of any bonuses.
---
---
Sports covered
You have got all the main sports covered at BetJOE. As a North American-facing site that means ice hockey, baseball, basketball and football (NFL and CFL) are especially well covered, with soccer, boxing, handball, MMA, rugby, snooker, tennis and volleyball also all present and correct.
While the vast majority of sports betting is focussed on these sports, there are some notable absentees such as golf, horse racing and cricket, to name a few. So, in terms of sports covered BetJOE has a reasonably solid, but far from spectacular range, likely to cater to most but most definitely not all, keen gamblers, especially those from outside Canada and the US.
Another thing to note is that the website will default to showing games within that spot taking place within the next 24 hours if there is one. At first glance, therefore, it seems as though they have not yet sorted the odds for any matches taking place further in the future. It's a strange thing to do especially when there is one solitary fixture on a particular day, but once you are aware of this, you know to click the 'show all fixtures' button.
Available betting markets
There are a disappointing lack of additional markets across some sports with many featuring little, if anything, beyond the typical Spread, Moneyline and Totals options. For bigger matches, you can alter the spread and total numbers, but this option is not available for less popular fixtures.
In the bigger events, you will also usually have access to some handicap and total point/score markets, but it's only real soccer that offers significantly more markets. For most top-level soccer matches, customers will find options such as half time/full time betting, correct score, both teams to score, the first goalscorer, number of corners plus a small selection of special bets. On their website, BetJOE also offers an 'outrights' option on the left-hand menu which allows you to bet on tournament and league winners from a large array of sports, including many from basketball, football and hockey.
---
In-play sports betting
A large proportion of the sports events players can bet on do not make their way to the in-play section at BetJOE. That said, there are far more than the upcoming events calendar would indicate, a calendar that lacked any scheduled events during one day we looked at.
This is simply a faulty feature of the site as you will usually find a handful of live events every day of the week, whatever time of the day. Soccer is the best-covered sport in this regard with a decent selection of matches marked with a stopwatch symbol, indicating they will feature on the in-play page. Overall though, BetJOE does not cover nearly as many in-play sports as some of their big competitors.
For the games they do cover, BetJOE does at least put a decent amount of effort in, offering some quality in the absence of real quantity. Some matches will include streams, including virtually all eSports bouts, so bettors into their competitive gaming are well-equipped to bet on the action live.
With a few additional markets also available in this area, eSports is something well covered on BetJOE. In-play markets for other sports do not usually come with such choice though, often just allowing customers to bet on the result, handicap or total games/goals/points.
---
Odds
BetJOE claims they provide "some of the best odds in the industry" and we can certainly see some truth in that statement. Looking across a range of different sports, BetJOE regularly offered a better price than many larger bookmakers, often beating them all. Therefore, players at BetJOE can play with the knowledge that they will be getting good value for money on their bets.
The odds themselves come in the American format as the default, but they can be altered to fractional, decimal or Hong Kong odds easily enough in the settings menu.
---
Sports betting products
Cashout is not usually available at BetJOE, but soccer games are the main exception to this. Those that do, which is virtually all of them, will be marked with a cupped hand and two coins symbol to the right of the fixture. It's not an option you will find for most other sports, but there are the odd exceptions seen here and there, for instance, handball.
Live streaming
An embedded live streaming service is available for eSports (via Twitch) and also for a variety of soccer matches taking place across the globe. Very few other sports are covered apart from these two though, so overall BetJOE has quite limited live-streaming capabilities. An icon in the shape of a TV screen will mark all fixtures that are scheduled for streaming.
---
eSports betting
Although BetJOE does not have a great variety of sporting markets available, they do partly redeem themselves by having a fantastic selection of eSports options. Such is the focus on competitive gaming that eSports even features as a separate option on the main menu, sandwiched between in-play and casino. Here you will find the most popular games are all covered, such as Counter-Strike, Dota 2, League of Legends and FIFA, with some additional markets available for most.
---
Virtual Sports betting
A lack of actual sport does not mean you cannot get your betting fix thanks to BetJOE's virtual sports page. Here you can bet on football, greyhounds, horses, speedway and motorbikes. The final four of these sports use footage from historical or 'pretend' races which were filmed for the purposes of virtual sports betting.
This help gives them a more realistic and immersive feel as you can see real-life action taking place on your screen. Football betting uses real team names, but matches are computer-generated. They do all come with commentary though, something which helps to up the excitement.
---
BetJOE Casino
The first thing you see when heading to BetJOE's casino is an incredibly long, continuous list of slots. At first, you may only see the option to filter by games produced by Habanero but wait a few seconds and a few additional options will appear such as BGaming, BSK and ELK. It's a useful feature if you have a preferred developer, but otherwise, it's not going to help narrow down your choice from hundreds and hundreds of slots.
Offering one of the largest catalogues of slots games we have seen before, there is absolutely no risk of you lacking something new when spinning the online reels. BetJOE is not able to boast such an incredible selection among other casino games, but they still do a decent enough job.
All major games are covered including the likes of Sic Bo, baccarat, craps and video poker with no major absentees. The range within each section varies depending on which game you are looking at, and while some are quite poorly stocked such as blackjack (3 options) and baccarat (2 options), others come with a healthy amount of choice. There are 40 different poker varieties, for instance, as well as 13 roulette variations.
---
Live casino
Ezugi is the providers for BetJOE's live casino experience, which usually features around 15 tables at any one time. Some games are limited to a set amount of players, while others can accommodate an unlimited number of users.
In either case, the game will indicate how many active players there are before you load up. Here the player can try out roulette, blackjack, casino hold 'em, keno and baccarat. The 24/7 virtual studios users play in are in-line with the high quality we have come to expect from the live casino market, offering a similarly polished experience so that you will find at many other competitors.
Note that if you have issues loading the Live Casino site, it's likely because users from your location are not allowed to access it.
---
Mobile site version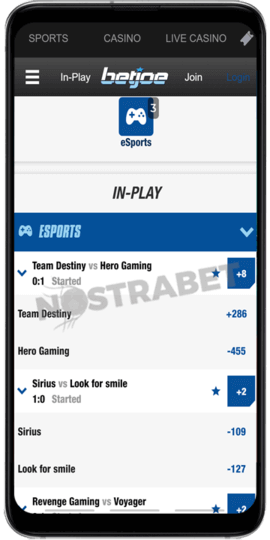 BetJOE have designed a site for mobile use, but there is plenty of room for improvement. Things begin well enough with access to Sports, In-Play, Casino and Live Casino all available from the home page. However, having selected the casino page from the horizontal sliding menu, you can then narrow down your search, although finding a particular slots game still remains a tough ask with just one featuring per row. It's an issue not helped by the fact you cannot save you favourite games on a separate page.
You will find there is plenty of scrolling to do on the sportsbook too because every match taking place for each particular sport shows up as part of one long list. As a default, only those scheduled within the next 24 hours first appear but if selecting 'all' things become much messier.
For more popular sports, you end up getting a massive list of games in no real order and with no way of filtering them into a more manageable form. Lacking any sort of search feature on the website too, finding what you want to bet on is not an easy task on the mobile site.
---
Payment methods
All of the different payment methods at BetJOE come with no fee and are processed quickly. The table below indicates the various ways players can deposit money into their account. Amounts are fixed except in the case of wire transfers as here it's possible to increase the maximum deposit depending on your account verification level.
Deposit Methods
Withdrawal Methods
| Payment Method | Deposit Minimum | Deposit Maximum | Time for Deposit |
| --- | --- | --- | --- |
| Visa | $10 | $5,000 | Instant |
| Bank Wire Transfer | $2,500 | $25,000 | 5-7 Working Days |
| Skrill | $10 | $10,000 | Instant |
| MasterCard | $10 | $5,000 | Instant |
| Bitcoin | $10 | Unlimited | Instant |
| Litecoin | $10 | Unlimited | Instant |
| Dash | $10 | Unlimited | Instant |
| Ethereum | $10 | Unlimited | Instant |
| Monero | $10 | Unlimited | Instant |
| Payment Method | Withdrawal Minimum | Withdrawal Maximum | Time for Withdrawal |
| --- | --- | --- | --- |
| Visa | $10 | $5,000 | 1-3 Working Days |
| Bank Wire Transfer | $2,500 | $25,000 | 3-10 Working Days |
| Skrill | $10 | $10,000 | Up to 24 Hours |
| MasterCard | $10 | $5,000 | 1-3 Working Days |
| Bitcoin | $10 | Unlimited | Up to 3 Hours |
| Litecoin | $10 | Unlimited | Up to 3 Hours |
| Dash | $10 | Unlimited | Up to 3 Hours |
| Ethereum | $10 | Unlimited | Up to 3 Hours |
| Monero | $10 | Unlimited | Up to 3 Hours |
---
Security and Regulation
BetJOE only allows access to their site through secured networks which use advanced methods of encryption for usernames and passwords. They also take "all reasonable steps" to ensure that your data is secure and protected.
Cookies are used for website improvements and to help give customers a more personalised experience. Customers are able to request the access held about them as specified by the Data Protection Act 1998 but any request may be subject to a fee.
---
Affiliate program
Recognising affiliates are one of their greatest assets, Getpaid claim to treat you like VIPs and give you the resources you need to maximise profits in a highly competitive market.
It's free to be part of the scheme; there is no negative carryover and any money earned is paid out on time each month. The lowest rate of commission is 10%, but generous amounts are given to more successful affiliates, between 30 and 40%. Affiliates can either chose to earn money solely for each player referred or as part of a hybrid model that includes this as well as the revenue players bring in. It's also possible to refer other affiliates to the program for a 5% bonus.
---
FAQ's
How to verify my account?
Many users will not need to verify their accounts, and they can simply register and start playing. BetJOE may ask some players to confirm their identity; however, by sending over scanned documents (preferably in English). Identity verifications are usually proceeded on the same business day.
What to do if I forgot my password?
On the log-in page, simply select the 'Recover' button underneath where it says 'Lost Password?' Once you have entered your username and completed the captcha, a reset password link will be sent to your registered e-mail address.
Are withdrawals free?
Just like with deposits, BetJOE themselves issue no charges when making a withdrawal. Players should be aware, however, that those payment providers may charge for currency exchange, geographical location and/or other reasons, outside of BetJOE's control.
What currencies can I play with?
Players can choose one of the following currencies: Bitcoin (mBTC), US Dollars, British Pound, Euro, Russian Rouble, Canadian Dollar, Chinese Yuan, Norwegian Krone, Swedish Krona, Danish Krone.
What cryptocurrencies does BetJOE accept?
BetJOE is ahead of the game when it comes to cryptos, and they accept any major digital currency upon request including, but not limited to, Bitcoin, Litecoin, Ethereum, Monero, Zcash and Bitcoin Cash.
How do I purchase a Bitcoin?
You can buy Bitcoin online or physically in stores using one of the many Bitcoin ATMs located worldwide. If you would like help purchasing, please contact the Customer Service team for assistance.
How much rollover do I have left on my bonus?
You can view your remaining rollover amount by accessing the 'Players Account' section then clicking the 'Bonus Info' tab. You will also find bonus terms and conditions here.
I cannot find an event on your website?
BetJOE covers a range of sporting events but not all. If you would like to place a bet on a match not covered, then please e-mail in as their traders may be able to accommodate your request.
What is a parlay bet?
A parlay bet includes multiple different selections across different sporting events which all must-win for the parlay to be a winner. BetJOE accepts parlay bets that feature between 2 and 10 different selections. These bets are also known as accumulators, or ACCAs for short.
---
About BetJoe
Having made rapid progress since going live, BetJOE is now Canada's fastest-growing online sports betting site. At least that's what they bill themselves as! Their roots actually lie in Bulgaria though, with the Galaxy 88 group that was established in the capital, Sofia, and operates a number of other betting sites as well.
Galaxy Group Ltd, who are licensed and regulated by the Government of Curacao under license #365 /JAZ, processes payments for BetJOE. They welcome players from across the world. However, no services whatsoever are available to players from Australia, Bulgaria, Hong Kong, Macau, Slovakia and the United Kingdom.
---
Support & contact details
Although there is a 'Live Help' button at BetJOE, you will not receive an immediate response to your query as the system always appears to be offline. You can still submit questions via the form though, and somebody will usually respond within a day or two. The live chat functionality is definitely an area in which the site can improve.
---
Rating & Conclusion
For eSports enthusiasts, we give BetJOE a solid thumbs up as they cover an excellent range of different games and fixtures. With in-play betting and live streams available much of the time too, there are few better places to go for people wanting to stake their money on competitive gaming. Sadly the website doesn't really excel in any other department though. The casino is decent on the whole, but it lacks content in some areas, the same also being true about the live casino.
There is a reasonable selection of sports betting, but the in-play section is, contrary to what BetJOE claim, not one of the largest offerings found anywhere online. There is limited depth among each individual sporting event too, with some offering very few or even no additional markets.
There are some redeeming features to BetJOE though, partly its huge welcome bonus and also the 0% fee on all deposits/withdrawals. The virtual sports section is also better than most, so there are certainly some reasons to play here, even if it's not the best site around.
Overall score: 3.3/5
Last updated: