Ad disclosure
Commitment, professionalism and trustworthiness are the core values of NostraBet (NB). We manage to deliver cutting-edge betting products to our readers thanks to our affiliate business model. It is true that NB uses affiliate links to drive traffic to bookmakers. What you must know is that these are free for you to use. Their main purpose is to earn us commissions that will ultimately be invested in the betterment of our product. Visit our
Ad Disclosure
page to learn all the details.
Is there an Android app ofBet2U?
Bet2u started on a high note, and that saw it become popular among betting enthusiasts. The online site has plenty of features whose purpose is to make online betting alluring. However, little effort has been put to ensure mobile users have the fun they deserve. For instance, there is no Bet2U apk for Android phones that you can install and start enjoying mobile app betting. The lack of a Bet2U app for Android is affecting the sportsbook's popularity since it is losing clients who want to punt using an application. Hopefully, it is something the operator will correct soon.
---
Is there an iOS mobile app ofBet2U?
Similarly, there is no Bet2U app for iOS devices. Lacking a Bet2U mobile app for clients with iOS devices is affecting the usability of the online platform on a mobile phone. The beauty of such a betting app is that it makes accessibility easy. Punters also enjoy some freedom that doesn't come with utilising the desktop version. Furthermore, it is a great way of ensuring you have a memorable time online without various restrictions. You can confirm from the Bet2U agents whether the operator will be rolling out an iOS application or not.
---
Bet2U Mobile Site Version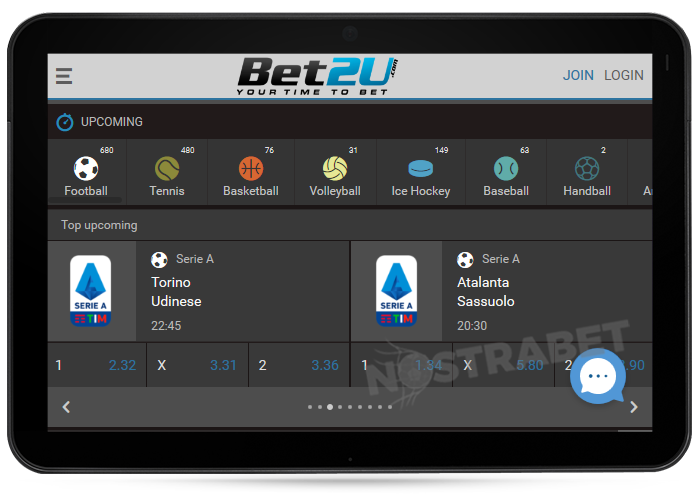 Although the bookie doesn't have a mobile app, it has something that can optimise usability using a mobile phone. The operator has an interactive Bet2U mobile version built to make online betting using smart devices a success. The mobile interface is not only simple but also interactive. It comes with plenty of dependable features, as you will see later. Bet2U mobile version maintains the desktop version's theme, but the layout is slightly different. What is more appealing is that the sporting list contains colourful icons that you can scroll over and have an incredible time online. It also has one of the best appearances and a smooth finish due to the fascinating images used.
At the top of the mobile site, there is a menu bar that you can use to access the menu button situated to the left. Slightly below, you will find the advertisement section with sliding images containing the latest Bet2U announcements. The advantage is that you don't need to download an app for you to utilise the mobile version. You only have to access it using a compatible smart gadget. You will find the controls to be both smooth and responsive, and that will enable you to give commands easily. With the Bet2U mobile version, you can handle mobile phone punting anytime and anywhere you want.
---
Mobile Features
For sports betting mobile site to be a success, it has to have various useful features. Those functions either make betting easier or allows you to have fun online. For instance, the Bet2U mobile version has a variety of components already in place and ready for use. Some of the mobile features you will find include:
Live betting
There is a Bet2U live betting feature available on the mobile version. It allows you to punt on matches that have already started. The technique for live punting is different from that of betting on pre-matches. Here you need to be smart and sharp since you don't have all day to analyse the ongoing events. Instead, you need to use current statistics. Note that the sportsbook will lock some matches at some point, therefore, barring you from punting on them. You should, therefore, go through the list and see which live game you can bet on. Thereafter analyse the available statistics and place a bet before you are locked out. To access live events on the mobile version, you need to flip open the menu and tap the Live-In-Play games.
Cash-Out
You will also find a cash-out option, which is not only incredible but also useful to professional punters. Bet2U gives you a chance to cash-out before it's too late. To cash out on a particular match, open the bet slip and use the cash-out function available. Once you initiate the command, the operator will calculate how much you will get during that particular time and disburse it in your Bet2U mobile account. Note that the amount you get depends on the odds at the cash-out moment. The most significant advantage of having this feature on the mobile version is that you can minimise your loss and maximise your profits. However, it requires you to be good at using it before you start getting positive results.
---
Available betting options through the mobile version
There are so many gambling categories that you can access using the mobile version. Each group comes with its advantages on the platform. They add value to the Bet2U mobile version, and that makes the whole interface accommodative. Some of the options available include:
Sports betting
The most comprehensive betting option available is sports betting. It is a category that covers many sports ranging from pre-matches to live matches. It is also the first thing you'll see the minute you open your sports betting account. Under the category, you will stumble upon options like baseball, volleyball, football, tennis, basketball, and ice hockey. You will also find snooker and table tennis, all with matches from all over the world. To access an individual event, you can use the search button to look for either the competition or a specific team. That is because the interface is always swarmed with betting events. It is, therefore, tiring to look at events one by one.
Slots & Live Casino
The Bet2U mobile version also offers unlimited access to the casino and live casino section. Here you will find various video slots like Mystery Reels, Starz Megaways, Take the Bank, and Trump it Deluxe. You will also encounter a different subsection called table games, which features selections like baccarat, video poker, roulette, and blackjack. Live casino, on the other hand, offers mesmerising gaming options, for instance, Power Blackjack, Crazy Time, No Commission Baccarat, and Speed Roulette Live. With such a section on the mobile platform, you will never run out of games to play. You can access the two categories under the main menu on the Bet2U mobile version.
Virtuals
Another exciting category whose availability on the mobile version will impress you is the virtuals. The section is labelled Virtual Sports on the Bet2U mobile site. In the section, you are going to find games like instant greyhounds, horse racing, and bike racing, among others. The category solely depends on Artificial Intelligence and a random number generator for results. Virtual games are quick, and so they require quick analysis. The operator will give you a few seconds or minutes to place your bet before the game begin. Each event takes a short period, so in less than six minutes, you will know the results and whether your prediction is correct.
eSports
The final section available on Bet2U mobile is the eSports section. Just like the name suggests, these are electronic sporting events played by professional players. Two groups of people form a team and play against each other on the game. Your work, on the other hand, is to determine which team is going to emerge the victor. There are also plenty of different betting options that you can access using your mobile phone. Some of the most popular eSports games available onBet2U mobile platforms include Dota 2, Rocket League, Overwatch, and Counter-Strike. You will also find Call of Duty, which happens to be an interactive game.
---
System Requirements and Compatibility
System compatibility is crucial for the smooth continuity of your betting activities. That is why you have to purchase a smart gadget with fantastic features, such as a Samsung or an iPhone. The mobile phone should also have a superior browser that can open HTML 5 websites. Otherwise, you may end up with a distorted display. For instance, the layout will not be correct, and therefore, words will start overlapping. The screen resolution is also essential since it determines how clear the images and the theme will display. Some of the phones you can give a try apart from the ones mentioned above include:
One plus
Sony Experia
Motorola smartphones
Lenovo
Windows Phones
Huawei
---
Mobile bonus
Bet2u may have many features on its mobile version, but it is still yet to add other vital functions. For example, the sportsbook doesn't have a mobile bonus. You probably saw that coming after you read the unavailability of the mobile apps. The only option you have is to go straight to the bonus section and claim the ones available. Having a mobile bonus would have, however, made a difference in terms of attracting punters who love betting using their mobile phones. It would have also bridged the gap created due to the lack of Bet2U apk download files that allows you to install apps.
---
Deposit and Withdrawal Options
For punting to begin on the mobile platform, you have to deposit cash in your Bet2U account. Instead of forcing you to do so using the desktop version, the operator eased the whole process by including suitable payment methods on the mobile version. That is why you can access various credit card methods and e-wallets whenever you are online. You may not find widely used methods like PayPal, but you will discover some dependable options. For instance, you will come across Skrill, Visa, Neteller, and ecoPayz.
You can also use bank transfer, which is among the most secure method of transaction. It, however, only allows withdrawals. Note that depositing using any method is instant. Withdrawals, on the other hand, take some time due to the lengthy clearance process. Most approaches, however, take less than 24 hours to complete transactions. In case you want to have an overview of what to expect, look at the table below.
| Payment Method | Deposit Minimum | Deposit Maximum | Time for Deposit | Minimum Withdrawal | Withdrawal Maximum | Time for Withdrawal |
| --- | --- | --- | --- | --- | --- | --- |
| Visa | €20 | €1000 | Instant | €20 | €1000 | 1 hour |
| Neteller | €20 | €5000 | Instant | €20 | €5000 | 1 hour |
| Skrill | €20 | €5000 | Instant | €20 | €5000 | 1 hour |
| Paysafe Card | €10 | €500 | Instant | €10 | €1000 | 12 hours |
| EcoPayz | €20 | €5000 | Instant | €20 | €5000 | 12 hours |
| MasterCard | €20 | €1000 | Instant | €20 | €1000 | 1 hour |
| Bank Wire Transfer | | | | €20 | €500 | 24 hours |
| Bitcoin | USD1 | USD10 000 | Instant | | | |
| Trustpay | IDR50 000 | IDR30 000 000 | Instant | | | |
---
FAQs
Was it ever not working?
The Bet2U mobile version has been working for a long time now. The applications, however, have never been available.
What if it won't install?
You don't have to worry about installing any Bet2U mobile app because the site is yet to release any application.
Can you change the odds from fractional to decimal?
Yes, you can change the odds format from fractional to a decimal using the mobile version. That is by opening the page and scrolling down to the end of the page. You can, thereafter, click on the odds format and switch to the one you want.
How to use theBet2U mobile site?
If you want to bet using the Bet2U mobile site, go ahead and log into your account. Thereafter, you can select the sport and the event you wish to bet on and finally place the bet.
Why is my account dragging?
Your account may be dragging due to various reasons, and one of the common ones is a poor internet connection. You may also be using a slow phone which is unable to work correctly for smooth navigation.
Which kind of browser should I use to access my mobile version?
You can use variable browsers to access your mobile version, for instance, Google Chrome, Mozilla Firefox, and the Latest Opera Mini browser.
Can I play Bet2U games for free?
Yes, you can play Bet2U games for free using the mobile version. Live games, however, don't offer free demos.
Can I open a Bet2U account using the mobile version?
You can open the Bet2U mobile account using the desktop version. All you need is to provide your details and register for an account.
---
More about Bet2U
Bet2U is an engaging online punting platform formed by B2 Game Services B.V. The parent company owns a Curacao gambling permit and has a physical headquarter in Curacao. Bet2U has grown into a trusted site for people to punt on different matches. The platform offers intriguing services and is currently making waves in the gambling industry with its charming features and amazing appearances.
What will entice you most are the payment methods which are fast, dependable, and secure. You will also love the fact that the sportsbook keeps its players anonymous. All those functions, together with other inclusions, make Bet2U a worth it betting site.
---
Mobile Rating and Conclusion
There are a lot of things available on Bet2U mobile platform. You will find various features like cash-out and live betting. You will also find a couple of betting categories, with the main ones being a casino and a sportsbook section. However, there are multiple things missing on the website, one of them being a welcome bonus. Another thing that you will not find is a Bet2U mobile application, so you have to utilise the mobile version.
Last updated: