Bet on Aces Mobile App
Ad disclosure
Commitment, professionalism and trustworthiness are the core values of NostraBet (NB). We manage to deliver cutting-edge betting products to our readers thanks to our affiliate business model. It is true that NB uses affiliate links to drive traffic to bookmakers. What you must know is that these are free for you to use. Their main purpose is to earn us commissions that will ultimately be invested in the betterment of our product. Visit our
Ad Disclosure
page to learn all the details.
Android Application
Bet On Aces is one of the newest online bookmakers to surface and cater to the online betting industry, and it's for this reason that they have yet to develop a dedicated mobile app for Android users on the Google Play Store. That said, they also do not offer a .apk file to download directly from the Bet On Aces site. While not uncommon in today's betting landscape, Bet On Aces is fully mobile compatible and as such, all betting markets, games and promotions quickly accessed via a mobile site that is equal in quality to that of the desktop version.
---
iOS & iPhone application
iOS users will be met with the same fate as Android and find Bet On Aces does not feature an iOS app. While it would be a nice feature, it is not overly relevant as once again, access via your mobile browser makes accessing the site simple. It performs equally on all levels, and for punters preferring not to use valuable space on their smartphones, having a browser accessible site is often preferred.
---
Mobile Website Version
The mobile website at Bet On Aces has been designed to cater to all mobile users, irrespective of the mobile device accessing it. That was done to compensate for the lack of mobile apps, but also to appeal to punters who prefer to use a browser versus an app. The value in its design is its natural ability to be fully optimised. The reason for that is to fit to each accessing device, and there is comfort in that, especially when replacing a current mobile device with a different one as questions relating to compatibility is removed, and with the same black and red colour scheme carried over to the mobile site, familiarity will be felt, as will navigation.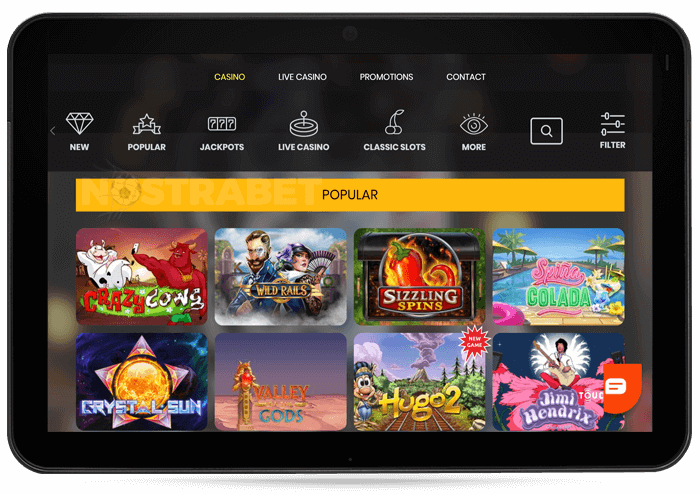 The Bet On Aces mobile version is sophisticated, modern, and easily navigated. Its features will meet the needs of beginners to those who are more complicated but equally share enthusiasm towards sports betting, but also virtual and fantasy sports, in-play betting, casino games, live dealer games, poker, and for those interested in something unique, a VR casino. Registration located at the top of the site, and with that, the option to select one of six languages is also in place. A drop-down menu will steer you towards the betting market you are interested in, and with links to supporting and the ability to upload identification documents, it is well-poised to put you in the driver's seat.
The gentle side to the overall design is each section within neatly presented and finding a specific betting product or promotion has never been easier. Each section is quick to load, and the overall usability is smooth and uninterrupted thereby giving you a superior online betting experience.
---
Notable Mobile Site Version Features
As previously mentioned, the Bet On Aces mobile version comes equipped with an extraordinary range of fantastic features that negate any need for a mobile app. Some features stand out above others, and those we will discuss below offer not only value to the betting experience received, but to the value of the Bet On Aces site as a whole as they collectively can have a significant impact on your online betting experience.
Cash Out Option
One of the most important features at any online bookmaker is a Cash Out option and punters will be pleased to know that this option is available at Bet On Aces. The Cash Out option will necessarily give you more control over your wagers thereby allowing you to take a portion of your initial bet if you are under the impression that your bet will lose when the match or game has ended. That is more of a recent addition to online betting, and while it means forfeiting a portion of the amount wagered, it still gives the ability to limit those losses, and there lies its value.
In-Play Option
In-play is another of the notable features as it offers an assortment of matches or games that are currently in play. That is not a new feature by any account, but with the great sports betting selections at Bet On Aces, its value comes from having the option to place live in-play bets on a multitude of sporting events. With competitive odds and continuous real-time updating, it goes the distance towards getting the most out of your betting experience.
Live Streaming
If you enjoy watching sports, you will be pleased by the great sports being streamed live directly through the site. It gives you the ability to watch sports events you have active wagers on and for sports that may not be local; it adds value. The live streaming service offers an ever-increasing selection of sporting events in high definition and continually updates the available markets in real time to ensure you never miss the ability to place bets, but also the potential profit increase.
Virtual Casino
One of the most appealing features that punters will truly appreciate is the virtual casino. That is a rare feature, not just with a bookmaker, but in general and only a handful offer a VR casino. That is gaming at a new level as you become immersed within the casino and select your preferred games. You will need a VR headset to get the full experience, but once you do you will never look back.
Virtual Sports
If you are more interested in placing a bet in the virtual reality world as opposed to a virtual online casino experience, the virtual sports section will allow you an immersive virtual sports betting experience. Some of the most popular virtual sporting events offered including horse racing, tennis, car racing and football.
---
Available Betting Options
Apart from the enticing features that are available on the mobile version of Bet On Aces, punters will also be impressed by the extraordinary selection of betting options that have been incorporated into the mobile platform to ensure you have plenty of betting opportunities. To give you a better understanding of the betting options available we decided to break it down into those sections that are most appealing to the broader spectrum of punters.
Betting on Sports (*NOT ACTIVE)
One of the most attractive betting options available on the Bet On Aces mobile version of the site is undoubtedly the sports section. Punters will greet by a plethora of sporting events on the mobile version of the site, including virtual car racing, virtual bicycle, virtual tennis, virtual football, virtual greyhounds, virtual horse racing, netball, ski jumping, alpine skiing, auto racing, cross-country skiing, water polo and multiple others. For those hoping for that which is less common, bets can place on the Oscars, TV shows and movies.
Casino App
The online casino is considerable and one of the most comprehensive online casinos one will come across with a bookmaker as it comes equipped with more than 3,000 different casino games from a vast selection of software developers that are considered the industry leaders when it comes to casino games. Casino enthusiasts will treat to scratch cards, video slots, classic slots, progressive jackpot slots, casual games, table games, lottery games, bingo, card games, skill games, dice games, and video poker. The overall layout has been meticulously designed to ensure easy navigation, and the overall graphics and animation quality is superb, whether accessed via a desktop site or mobile device.
Live Casino
Three world-renowned online software developers power the live casino; Usoftgaming, Evolution Gaming, and Fazi. That lets you access a wide variety of live dealer games presented in full HD from a range of private studios throughout the world. Some of the most popular live dealer games include Live Blackjack, Dream Catcher, Live Baccarat, Live Casino Hold'em, Live Roulette, Live Triple Crown, and more. The chat functions incorporated into the Live dealer games allow for interaction with the dealer and when applicable, other players.
Mobile Poker
Bet On Aces also has in place an online poker room that packed with a wide range of poker variants including Texas Hold'em, 7 Card Stud, Omaha just name but a few. In addition to cash games, regular tournaments and exciting promotions will keep you satisfied, and with the extensive customisation options available, you are given more freedom and flexibility when playing against other online poker players.
---
Supported Devices
While having a well-supported and designed mobile site at your disposal, not being to gain access due to the type of device you may use can be a frustrating experience. Taking that into consideration, you will find below a list of compatible phone manufactures and the respective models which are computable at Bet On Aces.
Samsung S6, S6 Plus, S7, S7 Plus, S8, S8 Plus, S9, S9 Plus
Sony Xperia E5, M5, ZR, Z5, L, V, ZL, SP, X, Xa, XZ
HTC One, max, mini, A9, A9s, S9, 10, U11+, Dual SIM, Play, Ultra, Lifestyle
Huawei Mate 10 Pro, Mate S, P10, P9, lY6
LG G5, Q6, G6, V30, X Power, K8, K10, LTE, Flex 2, 5X
Motorola Moto G4, X Force, X Style, Moto G4 Play
iPhone 3, 3S, 4, 4S, 5, 5S, 6, 6S, 7, 7 Plus, 8, 8 Plus, X, XS, XS Max, XR
iPad Touch
---
Mobile Offers
There is a noticeable trend today that has seen most no longer gearing promotions specifically towards its mobile apps or sites. Instead, promotions, whether directed towards newly registered members or those that are active members are equally available across all platforms. That is to simplify the process of claiming promotions, and ultimately, benefit each member due to the convenience and ease of not having to verify if you are eligible for any particular promotion offered. As such, all promotions at Bet On Aces are available at both its desktop and mobile site equally.
---
Mobile Deposits and Withdrawals
Bet On Aces has put together an extensive list of deposit and withdrawal methods that can choose when wishing to fund your account. Each method of payment methods is safe, secure, and reliable and that provides peace of mind without the need to worry about your financial information, or personal information is a compromise. As a measure of convenience, we have listed the available deposit/withdrawal methods as well as their limits and processing time.
Deposit Methods
Withdrawal Methods
| Payment Method | Deposit Minimum | Deposit Maximum | Time for Deposit |
| --- | --- | --- | --- |
| Visa | €10 | €5000 | 1-3 days |
| Neteller | €10 | €5000 | 1-3 days |
| Skrill | €10 | €5000 | 1-3 days |
| Entercash | €10 | €5000 | 1-3 days |
| Paysafe Card | €10 | €5000 | 1-3 days |
| EcoPayz | €10 | €5000 | 1-3 days |
| MasterCard | €10 | €5000 | 1-3 days |
| Yandex Money | €10 | €5000 | 1-3 days |
| WireCard | €10 | €2000 | 1-3 days |
| Qiwi | €10 | €5000 | 1-3 days |
| Moneta.ru | €10 | €10000 | 1-3 days |
| Gpaysafe | €10 | €5000 | 1-3 days |
| PugglePay | €10 | €5000 | 1-3 days |
| OtoPay | €10 | €5000 | 1-3 days |
| ArcoPay | €10 | €5000 | 1-3 days |
| Sberbank | €10 | €10000 | 1-3 days |
| Hipay | €10 | €5000 | 1-3 days |
| AstroPay | €10 | €5000 | 1-3 days |
| WalletOne | €10 | €5000 | 1-3 days |
| Payment Method | Withdrawal Minimum | Withdrawal Maximum | Time for Withdrawal |
| --- | --- | --- | --- |
| Visa | €10 | €10000 | 1-3 days |
| Neteller | €25 | €10000 | 1-3 days |
| Skrill | €25 | €10000 | 1-3 days |
| Entercash | €10 | €10000 | 1-3 days |
| Paysafe Card | €1 | €10000 | 1-3 days |
| EcoPayz | €10 | €10000 | 1-3 days |
| MasterCard | €10 | €10000 | 1-3 days |
| Yandex Money | €10 | €10000 | 1-3 days |
| WireCard | €10 | €10000 | 1-3 days |
| Qiwi | €5 | €10000 | 1-3 days |
| Moneta.ru | €1 | €10000 | 1-3 days |
| Gpaysafe | €10 | €10000 | 1-3 days |
| PugglePay | €10 | €10000 | 1-3 days |
| OtoPay | €10 | €10000 | 1-3 days |
| ArcoPay | €5 | €10000 | 1-3 days |
| Sberbank | €10 | €10000 | 1-3 days |
| Hipay | €10 | €10000 | 1-3 days |
| AstroPay | €5 | €10000 | 1-3 days |
| WalletOne | €5 | €10000 | 1-3 days |
---
FAQ
Does Bet On Aces provide mobile apps for iOS and Android?
No. However, mobile users are more than welcome to utilise the mobile version of the site which comes equipped with a vast selection of betting options and features that are very similar to the desktop counterpart.
What do I need for the virtual casino at Bet On Aces?
To utilise the virtual betting platforms on your mobile device you will need a VR headset if you are to get the most of this experience. If you prefer not to invest in a VR headset, the Bet On Aces online casino is more than capable of delivering a high impact gaming experience and is a more than a suitable option.
Does Bet On Aces offer an online poker room via the mobile site?
Yes. Poker enthusiasts can look forward to a comprehensive online poker room that comes with a wide selection of poker variants as well as tournaments and promotions.
Do I need separate accounts for the online sportsbook, online casino, and virtual platforms?
No. You will be able to access all betting products available on the Bet On Aces mobile version with one account.
Makes the Bet On Aces mobile version offers a Cash Out option?
Yes. Punters will be pleased to know that a Cash Out option is available which means you'll have more control over your wagers while on the move.
Can I test the online casino games before I deposit Bet On Aces?
Definitely. The Bet On Aces online casino will allow you to enjoy a vast selection of casino games in demo mode before you have to deposit your account.
---
Company Information
Bet On Aces opened its virtual door in early 2018, making it one of the newer online bookmakers to begin offering betting services to online punters. Owned and operated by Randon B.V, the site is licensed and regulated by the Curacao Gambling Commission, and that ensures a good, honest, and safe gambling experience that should be of comfort to those who may question the legitimacy of online bookmakers. Although it is still a relatively new site, Bet On Aces is building its reputation through its great sport and casino portfolio, the quality of its mobile site and the features designed within it to produce the best possible experience, one that many other established sites seem unable, or unwilling to match.
---
Final Words and Mobile Version Rating
The Bet On Aces mobile version offers an extraordinary range of betting products and features along with a sophisticated layout that both beginner and sports betting veterans will enjoy. The fact that it comes equipped with a VR casino is another reason why this online bookmaker is quickly gaining traction and cementing its popularity with online punters. When taking into consideration the sportsbook, online casino, poker room, and features such as the cash-out option, live streaming capabilities, and in-play betting platform, it leads us to an average overall rating for Bet On Aces' mobile services.
Last updated: 18 Sep, 2023 at 02:00