Unibet Australia Bonus Codes

| Offer Type | Details | Promo code |
| --- | --- | --- |
| → Unibet Australia Welcome Bonus | Not Available | |
| → Protest Payout | for Horse Racing | |
| → Bonus Bets | for Sports | |
| → Uniboost | extra winnings | |
Wagering in sports and racing can be some of the most volatile gambling you can participate in. This makes it exciting and far more interesting. To mitigate this, many online sportsbooks will offer bonuses or boosts. A great option, in this regard, for Australian players is Unibet.
---
How to use the Unibet Australia promo code?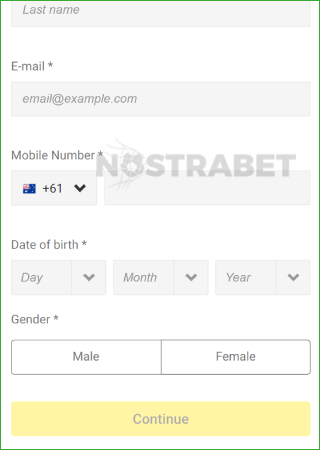 Visit Unibet Australia's website and click the "Register" button.
You will see the registration form where you need to enter personal info and account details.
Fill in all the required information about yourself and complete the registration process.
After you login into your account and make the first deposit, you can check the available promo offers.
After you sign up with Unibet Australia, you'll be able to use these offers to your advantage. You can find a complete list of current offers by clicking on the "Promotions" tab with the birthday present icon at the top of your page.
Available bonuses can be applied directly on your bet slip when placing a wager.
---
Unibet Australia Welcome Bonus
Unibet Australia's warm welcome for new players allows them to choose which type of betting they'd prefer between racing and general sportsbook betting. Then, once your account is created and fully registered, you'll be eligible for a bonus bet towards that type of event as soon as you deposit the minimum amount.
At the moment of writing this review, there is no Unibet Australia welcome bonus after registration. We hope in the future we see a new sign up bonus from Unibet.
---
Unibet Perks – High Odds and Great Boosts for Horse Racing
Unibet shines in regards to its racing-specific offers. It features lines for Australian and international races, with promotions leaning slightly heavier towards the Australian side. You can apply some bonuses to specific types of horses and some to groups.
Protest Payout
The Protest Payout is a system that cuts you a break for bad luck in horse races. This feature is activated if your horse initially wins the race but is relegated to a losing position; the horse must've passed the post. In these cases, you'll still be paid as if you won.
Dead Heat Payout
In the case of a dead heat, which is when two or more horses finish exactly even, Unibet has your back. If you picked one of the tied horses, the Dead Heat Payout bonus would protect your earnings from being split.
Uniboost Sports Betting Benefits
In addition to horse racing, Unibet also provides lines and offers related to NBA and EPL matches. These take the form of Uniboosts, which raise the odds of a single sports wager.
NBA and EPL games are also affected by Multi Boosts. This feature provides a boost to tickets with multiple legs. Slips with three or more portions will receive a 5% boost. After that, there's a 10% boost for five or more legs, a 20% boost for eight or more, and a 30% boost for tickets with at least 12.
---
What Extras Can You Get from This Operator?

Bonus Bets
If your horse comes in 2nd or 3rd place, you may be eligible to receive your stake back as a Bonus Bet. You must've wagered at least 1 AUD; this amount can be applied to a future wager at the time of submitting your bet slip.
Reboost
Reboosts are available every Wednesday and Saturday. Using a Reboost will give you boosted odds on races until you back a winning horse. All Reboosts must be used within 24 hours.
Uniboost & Uplift
Uniboosts and Uplifts add a bonus to the wagering odds of a single runner or all runners in a single race. Uniboosts are applied directly to your account and can only be used on single bets. Uplifts, on the other hand, are pre-determined to apply to certain races by Unibet's team.
---
Does Unibet Australia offer No Deposit bonuses?
No. Unibet Australia currently lacks a no deposit bonus. All promotions require a fully registered account and are applied directly to bet slips.
---
Unibet Australia Payments
In order to complete the activation of a bonus from Unibet Australia, you may need to make a deposit. Here we provide you with a table with all accepted deposit and withdrawal options for registered customers.
Deposit Methods
Withdrawal Methods
| Payment Method | Deposit Minimum | Deposit Maximum | Time for Deposit | Taxes |
| --- | --- | --- | --- | --- |
| Visa | $5 | $2000 | Instant | 0% |
| MasterCard | $5 | $2000 | Instant | 0% |
| PayPal | $20 | $2000 | Instant | 0% |
| POLI | $20 | $2000 | Instant | 0% |
| Payment Method | Withdrawal Minimum | Withdrawal Maximum | Time for Withdrawal | Taxes |
| --- | --- | --- | --- | --- |
| Visa | Not Stated | Not Stated | 3-5 working days | 0% |
| MasterCard | Not Stated | Not Stated | 3-5 working days | 0% |
| PayPal | Not Stated | Not Stated | Up to 24 hours | 0% |
| POLI | Not Stated | Not Stated | Up to 24 hours | 0% |
---
Pros and Cons of Unibet Bonuses
If you're still undecided or between two or more gambling sites, check out this handy list of pros and cons.
Pros
Whether you're a casual sports fan, a horse owner, an EPL mega fan, or something in-between, there'll be a bonus available that you'll enjoy.
There are boosts for single bets, single horses, all the way to boosting everyone's odds.
One bonus that stands out is its VIP Owner's bonus for horse racing. Players that register and verify a horse with Unibet are eligible for a bonus to their account for that horse.
Players can earn money back through Unibet's Cash Back and Bonus Back promotions.
Unibet.com allows players to apply rewards right on the bet slip.
Unibet has optimized its site for mobile through browser-view and its app. This app can live stream over 30,000 sporting events a year and provide live line coverage.
Cons
An area where Unibet Australia falls a bit flat is site accessibility. A new customer must create an account before even viewing bonus offers, which may be off-putting for some.
Perhaps the biggest downside of this site is its lacklustre welcome bonus.
---
FAQ
If you still have lingering questions, don't worry; here's a list of some of the most frequently asked questions regarding Unibet Australia's features and offers.
Is there a bonus code for Unibet Australian players?
At the moment, there is no Unibet bonus code available for Australia.
What is the Unibet Australia welcome bonus?
There is no welcome offer for new Australian customers of Unibet. Players can activate other offers after registration.
Are there Unibet bonuses exclusive to the app?
There is no bonus tied directly to Unibet's mobile app at this time. You can, however, access your regularly available bonuses through the app.
Are there any Unibet Australia horse racing bonuses?
Yes, there are offers for horses that features cashbacks, odds boost, free bets and others.
---
Unibet Bonus – Conclusion
If you're an Australian gambler looking to get into the action with your favourite horses, jockeys, and athletes, Unibet is a solid choice. Although it lacks a competitive welcome offer and traditional casino elements, it more than makes up for it with a sports-centric approach to promotional offers. Many of these deals are recurring, which creates an enticing atmosphere chock full of consistent savings.